The invisible mission field
Reading through Scripture I am struck by Christ's commitment to those on the margins of society.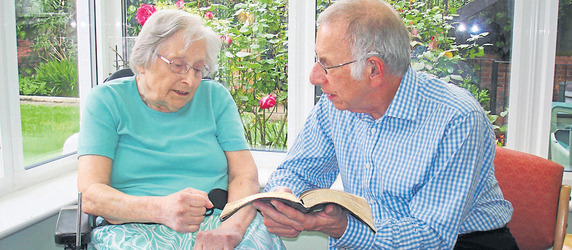 I feel challenged that he didn't use clever strategies to aim first to reach the best and brightest from the Jerusalem temple school so that they could be useful for his efforts. Instead, Jesus spent time with lepers, tax collectors, fishermen, women and Samaritans. In recent years the movement to revitalise the church with new plants and initiatives has sometimes focused on the young, the bright and the mobile. If we are to be faithful to the Great Commission we must be careful that our outreach doesn't leave out large segments of society.
Ten million pensioners
One growing group who urgently need reaching with the good news of Jesus Christ is the elderly. One in six of us is over the age of 65; that's a staggering ten million people of pensionable age. Three million of us are over 80 and that figure is set to rise. We are an 'ageing population'.
Our missionary in Dagenham, Brandon, tells me that he often meets older people while visiting door to door on the Becontree Estate. Many are lonely and isolated and very happy to have someone to talk to. Brandon is shocked by the lack of basic Bible knowledge or awareness of Jesus among these people. 'The god of this world has blinded the minds of unbelievers' (2 Corinthians 4:4). He visits a widow who has prepared every element of her funeral but has not considered how she will face her maker. Too often there is an assumption that because of trips to Sunday school 70 years ago people have their views on faith sorted. Brandon listens to stories and drinks cups of tea until people are ready to hear what he has to say and then he looks for opportunities to share about the hope that he has found in Jesus.
Reaching out in word and deed
The physical consequences of old age are obvious: loss of independence, failing health, isolation and even abuse are a daily reality. These felt needs can fill our attention and it is indeed right that ministry workers don't see 'caring for the widow' as beneath us, but at London City Mission we are convinced that people's greatest need is Jesus. We care deeply for those we meet. We are never less than loving, but we always look for an opportunity to share the gospel. There's a mission field out there amongst the over 65s, not one that gets discussed very often, but an important one, an urgent one. There's a desperate need for more people to get involved in spreading the good news. And whether we are 19 or 90 we can all have a role to play in reaching out to the elderly in word and deed.
As individuals we can befriend that housebound neighbour down the road. As a small group we can arrange to visit the local residential care home. As a church we can welcome people in to afternoon teas or holidays at home. And we can offer them friendship, love – Jesus. I pray that as the weather gets worse this winter there will be many Christians who take the opportunity to offer to help an older neighbour and start a friendship that can have eternal significance.
Ministering to the elderly can be time consuming. Older friends may need a lift to church and will have more needs than the average 30 year old. This work will be overwhelming if we leave it all to the paid church ministers, but it is a chance for us as church members to reach out with a distinctive, caring love and to be salt and light in our communities.
London City Mission has been ministering to the older folk of London for many years. Recently our retired missionary, Sylvena, has worked with us to republish a work-book Fun with a Purpose packed full of games, crafts and conversation-starters specifically designed for working with older people. The book is available from the London City Mission bookshop on 020 7407 7585.
Graham Miller is the chief executive of London City Mission.