The mystery in Finchley
East Finchley Baptist Church inducted John Lowrie into the pastorate on 9 September.
Dan Strange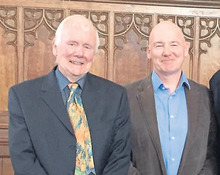 Dr David Smith, the former Principal of Northumbria Bible College where John was a student, preached on Ephesians 6.18-20. One cannot preach without the promise and confidence that the congregation are praying. Referring to cross-cultural ministry, he quoted Thielicke's memorable statement: 'The gospel must be repeatedly forwarded to a new address because the recipient is repeatedly changing places of residence'.