The Word on the Wash
'The Great Drama of Scripture – Your Place in God's Story'– was the wide-ranging theme for the 15 and 16 September 'Word on the Wash'.
Anne Roberts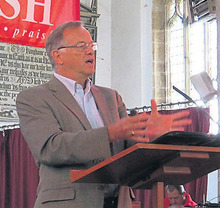 Dr Chris Wright looked at Exodus 19 and who we are as the people of God, and our response to God's grace as a community of priests whose task is to make God known to the world. From the depth and breadth of the Great Commission we focused in on individual situations. People can be not only be 'gospelling' the good news of what God has done, but also serving in society, demonstrating compassion and justice, and caring for God's creation.