Laugh out loud
Subject: James Cary, who is married with two children and lives in Somerset, is a scriptwriter.
Age range: 30 – 40.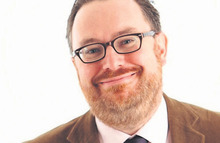 RJL: You write comedy scripts for a living. Does the BBC employ you?
JC: No, but I've done a lot of work for them on short-term contracts (Miranda, Bluestone 42, Another Case of Milton Jones, Hut 33 etc.)
RJL: How did you become a Christian?
JC: My parents are churchgoers and they sent me to a school where the Christian faith wasn't just taught and explained, but lived out by members of staff in a way that was both distinctive and attractive. At the age of about 11, I realised that Jesus's way was not the world's way, and that I needed to follow him, rather than go with the flow. So I opted in.
RJL: How did you become a scriptwriter?
JC: I'm not entirely sure. I wrote comedy sketches at school and then at university, but it never occurred to me that I could do that for a living. Comedy writing was something other people did. Back in the 90s there wasn't this widespread belief that anyone could be writer, or have a go at writing a novel or a screenplay. But I had some encouragements from a couple of Fringe shows I did at university and so, after I graduated, I moved to London and started trying to write topical jokes for BBC Radio 4. I got some sketches on a TV sketch show called Smack the Pony and it just rolled along (slowly) from there.
RJL: How do your beliefs impact on what you write?
JC: In every way! But of course the characters that I write about hardly ever share my beliefs, just as Jesus told stories about fools, greedy farmers, dishonest stewards and the like. But the reason I write sitcoms is because they are true to life – in that we make the same mistakes week after week – and they also show that our actions matter and have an impact on others. The sitcom is a strongly moral genre in which the proud are humbled, the liars are exposed and the greedy are disappointed. Sitcoms are more Christian than people realise.
RJL: Have you ever refused a commission and, if so, why?
JC: There is work that I haven't sought because it is not something I particularly want to write about. I don't think anything is off limits for writers, even Christian writers, as long as you're writing about it skilfully and honestly. The Bible is very honest about how flawed we are and my job as a writer is to show how the world is, rather than how we would like it to be. Some might be surprised at the use of foul language in Bluestone 42, a comedy I co-wrote for BBC3, but that is how soldiers talk – and not how I talk! As a Christian, I need to tell the truth in what I write, rather than distort reality to make it more palatable. The disagreements arise over how that is done.
RJL: What areas of work threaten to adversely affect your Christian life and witness?
JC: I praise God that I've been able to make a decent living from writing for most of my working life, so I need to remember to keep giving thanks for that and depending on the Lord's provision. Also, I really enjoy my job. For me, leaving my work in the office so I can give my full attention to my family can be a real struggle. Plus there's the competitiveness that creeps in when others are getting the breaks or the praise that you'd like for yourself. But these temptations are not peculiar to writing, I suppose.
RJL: Who writes your script?
JC: Given that I'm basically a Calvinist, I'm pretty sure that God's got it all written down. Whether I say all the lines he's written for me and hit all my marks at the right time is another matter…
RJL: Would you recommend being a scriptwriter as a career for a Christian?
JC: If you want to be a writer, and you've been gifted in that way, you'll write. The career chooses you. Making money at it is the hard part. I wish more Christians would pursue screenwriting as a career. In the church, anyone with strong word skills is automatically encouraged into the ministry, as that is deemed to be where the needed is greatest. And yet there are thousands of Bible teachers and ministers in the UK and hardly any Christian TV writers, even though TV is watched by millions of people every night of the week. It's no real surprise that the gap between the church and the media feels greater than ever.
Quick Fire Questions:
• West End or Broadway? / West End.
• Slapstick or satire? / Slapstick.
• Steak or scampi? / Steak. Not even close.
• Tommy Cooper or Michael McIntyre? / Tommy Cooper.
Writing That Sitcom by James Cary is available for Kindle/Kindle App or look at his blog sitcomgeek.blogspot.com
Roger Loosley asks these questions from the pleasurable position of being a retired lawyer.