COP26: Christians demand action
Evangelicals are prominent among church leaders demanding change in the run-up to the COP26 climate change conference. This will take place in Glasgow from 31 October to 12 November and will be attended by 190 world leaders.
Iain Taylor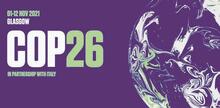 At COP21 in Paris in 2015, for the first time, every country agreed to work together to limit global warming to, ideally, 1.5 degrees; to adapt to the impacts of a changing climate and to make money available to do so. Under this Paris Agreement they were mandated to present how they would achieve this at COP26.