Simpo's stress-busting tips
Christmas is still one of the best opportunities for presenting the momentous news of the Saviour born on earth.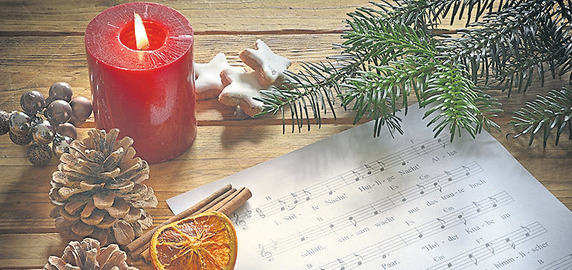 I'm astounded by the numbers of people who fill our church buildings and offices each year, and how easy it is to invite friends and neighbours to hear the gospel spoken and sung.
For church music groups this can be the most stressful time of the year because of high expectations, but quite often we create the pressure ourselves by trying to do too much. If we feel we have to start rehearsing our Christmas music in October or even September, we might have bitten off a bit more than we can chew.
However, we want to do a good job, so here are a few tips that might help take some of the stress away.
1. Pray that God will work powerfully to open people's eyes to the gospel as the Word is preached and sung. This should help us to remember that we're dependent on the power of the Holy Spirit and not on our musical endeavours.
2. Put on a carol service, not a carol concert. People come to church at Christmas because they want to sing carols. They're not as fussed about all the solo items. Find five or six strongly congregational carols that you're confident people will know, and give them one (maybe two) songs with solid truths in for them to listen to.
3. Keep it simple and relatively short. If guests are exhausted by the time the speaker stands up to explain the gospel, we haven't served them.
4. Do what you can do well. See who's around, and who can play or sing really well. Then, with minimum rehearsal, you can do a really good job. A musical item involving one good singer accompanied by one instrument rehearsed for a couple of hours can be much more effective than a huge choir and orchestra that takes weeks to achieve mediocre results. Orchestras and choirs are great, but from experience, the weeks of rehearsals can also discourage musicians from inviting guests. What's more, there is usually the need to rehearse just before the event, which is the best time to meet friends and bring them into the building.
5. Make sure that congregational carols are the in keys that are sing-able. Hark Herald and Once in Royal are usually written in G. The congregation (and soloist, if you have one for Once in Royal) will be hugely grateful if they're played in F.
By the way, Tip 2 (above) is the really important one and would be good to think about as we look to the future.
The Christmas music that people know these days is made up of songs they hear on the radio and online. Ask Alexa to play Christmas music, and up comes Silver Bells, George Michael's Last Christmas, Lily Allen's Somewhere only we know, Band Aid's Do they know it's Christmas etc. This means that the majority of Christmas shows by schools and other organisations sing mostly Jesus-free carols as they try to appeal to what's trending.
I was asked to play for a local council's carol event a couple of years ago. I gave them the list of carols that I'd play, but when I turned up they'd replaced them with Frosty the Snowman and Jingle Bells.
Sing the classics
Here's a plea to any Christians organising musical events this Christmas. Sing the classics! Even children are fine singing chunky carols like Hark the Herald and O Little Town. What's more, they get to learn a more authentic Christmas message than the one found in Rudolf the Red-Nosed Reindeer. Also, importantly, you are making it easier for them to be invited to a carol service 15 or 20 years down the track, because they'll be singing songs they remember from their childhood. At our carol service a couple of years ago, one 30-year-old guest had never heard Once in Royal. In another generation, the Herald our guests won't know Hark either unless these truth-packed gems are set into their heads.
To wrap up (I had to get a Christmas pun in there somewhere): keep the good news of the Christmas message central. Keep the music simple, and have a very happy and (hopefully) slightly less stressful Christmas.
Richard Simpkin is Director of Music at St Helen's Church, Bishopsgate, London.