Swift – Reputation
You've got to love Taylor Swift.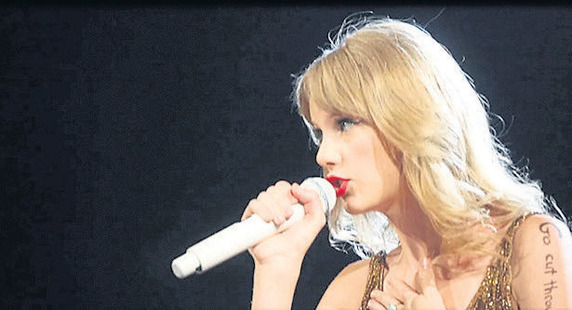 Since she was 15 in 2005 she's been producing incredibly popular, well-written songs and to date has sold 40 million albums worldwide. She maintains a relatively clean-cut image, eschewing sexy photo-shoots, communicating personally with her teenage fans (Swifties) and giving generously to charity. Compared to the Kardashians and Katy Perry, she almost seems like the girl next door.
Moving away
With each album, though, Swift has moved further away from the sweet country, guitar-based, songs of her early years. She has employed classic pop tropes, embraced nostalgic eighties sounds and now, in her most recent album, Reputation (2017), she plays with electro beats and rap. Through it all Swift remains more than anything else a songwriter and, in the best tradition of country music, a storyteller. Her memorable and vivid lyrics manage to convey many of the complexities of a young woman's life, through teens and twenties.
And although she's no longer writing about sneaking out of her parents' home for dates, she still sings about the challenge to find love, struggles with friends and regret over past actions. Despite her celebrity, she stands as a kind of every(young)woman for the 21st century.
Central to Taylor Swift's last two albums is her struggle with fame and reputation. Whilst all through the 20th century movie stars and singers have suffered with such pressures, for Swift these concerns are not the backdrop to her art, they are the source of it. This is just what Taylor sings about in the grungy rock 'They say I did something bad': 'They're burning all the witches even if you aren't one'. The anger is palpable, but her strength feels a bit brittle as it reappears again in electro 'Look what you made me do' when she breaks into a spoken section: 'The old Taylor can't come to the phone right now. Why? 'Cause she's dead'. Her answer to slander, it seems, is to reinvent.
Struggling for identity
Critics and fans love trying to work out who these songs are about. Ex-boyfriends? Other celebrities?
Perhaps they are, but, whatever the specifics, the anger and desire for re-invention, and underneath it all a deep sadness, speak of our age's struggle with identity. For her listeners, such struggles aren't too far away either. They may not be dealing with the paparazzi or have their friendship breakdowns make headlines, but they may well have had photos shared on social media against their will, been gossipped about or want to shake off a bad name.
Young women today have been fed the Disney self-actualisation myth of believe-in-yourself and live-your-dreams, the myth which seems the story of Swift's early life (from early childhood she wanted to sing and act and her parents fed her dreams with lessons and support). But this myth provides no help for when dreams fail and you don't know who you are or when your reputation is lost. A new identity needs to be invented, because the last one wasn't enough. In a world in which personal value is created by an online, touched-up presence, the natural response to rejection is to just create a new public persona.
So, Swift's development over five albums isn't just about a musical journey or growing up or keeping customers buying records. Her self-reinvention seems strong and creative, but is the result of a fragile sense of self.
Dumb struck
Still, on the album Reputation we hear the playfulness and romance of previous, earlier incarnations, too. 'Gorgeous' is the really singable song of a woman dumbstruck by an impossibly handsome man. 'I guess I'll just go home to my cats' Taylor sighs at the end. And in 'Call it What you Want' and 'End Game' she sings with a yearning for devoted love: 'I want to wear his initial round my neck/Chain around my neck /Not because he owns me/But 'cause he really knows me'. This comes to a climax in the last song of the album, an old-Taylor-style stripped-back piano song which speaks of clearing up after a New Year's party; this is the kind of love she wants, a permanent one. And so, alongside the hard edges, we find a vulnerable woman who is just like us. She wants to be known and still loved.
Supporting the shattered
This tension between a desire for committed relationship and determined independence makes for compelling listening because it resonates with our human condition; made for a permanent love and yet resisting our Maker. I love singing along with my kids in the kitchen to this constantly creative voice. But I want her words to drive me and them to engage deeply with those who are stuck, like Taylor, in a world which cannot fulfil their wildest dreams, or support them when their image is shattered.
Sarah Allen lives in Huddersfield and is a member of Hope Church where her husband is a pastor. She teaches A level English and is currently studying for a Masters in theology.