USA: chaplain cleared
A decorated US Army chaplain who faced a court martial over accusations of discrimination against a lesbian couple was cleared of all charges, it was reported on 25 August.
The Christian Institute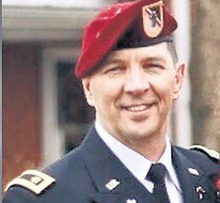 Major Scott Squires was investigated and faced dereliction of duty charges after he told a soldier he could not lead a marriage retreat that included a same-sex couple. The chaplain had to pull out of the event when he learned of the same-sex couple and arranged for an alternative chaplain to take over, but his actions were deemed discriminatory.