The last best opportunity
University is a key moment.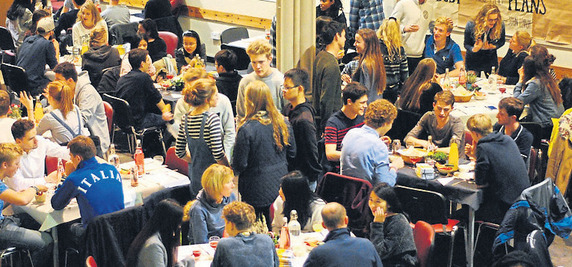 From day one, university promises a chance to reinvent yourself, to make lifelong friends and to load your CV with qualifications that will guarantee you your dream job upon graduating.
It's the weight of these expectations that makes Freshers' Week much more than just the whirlwind of enrolling on courses, exploring a new city and partying the night away. University, and by extension Freshers' Week, feels to many like the foundations of the rest of their lives.
Offering real life to the full
Knowing these pressures first-hand, Christian Unions [CUs] make their Freshers' Week events about much more than simply welcoming students to halls or adding numbers to their mailing list. In the fresher's quest for 'life to the full' and with so much felt to be riding upon every decision and friendship made, CUs are a voice on campus inviting students to explore something that will actually deliver, far surpassing even the best friendships, career prospects and self-discovery that university promises.
And so, over the past few weeks, CUs have given the new generation of students an opportunity to meet Jesus. For many, university is the last best chance to hear the gospel compellingly explained and attractively lived out by a group of Christian peers. So CUs waste no time in being that missional community, using the very first few days of the new academic year to reach out to new students.
Freshers' Weeks are a vital part of the CUs' year-round mission on campus. Many will run daily events with typical student creativity: from cookery classes in Winchester and radio shows in Leeds, to finger-painting in Glasgow and rounders tournaments in Carlisle. As Student Union societies, CUs are uniquely placed to meet and befriend freshers. Last year, over 12,000 new students attended CU Freshers' Week events. Wonderfully, for some this proves to be hugely significant.
Journies to Jesus
Take Jen*, an Edinburgh student. Last year, she went to the CU's Freshers' Week events as she was intrigued to find out about Christianity; she had never heard of Jesus before. Jen went with CU members to church that first Sunday where she heard about the love of a heavenly Father for his children which isn't dependent on performance or worldly success. Having felt the strain of this on her own life, Jen turned to the girl who had invited her saying: 'If this is true then I want to give my life to him.' Later that day she did just that.
For others, Freshers' Week is the start of a longer journey to faith. Oxford Brookes CU met Bella* the day she arrived at university while they were handing out free pasta in her halls. Bella had no interest in Christianity, but kept encountering CU members that week. She shares what happened next: 'I expected university to be the most amazing thing where I would find myself in a "perfect" life. But it was harder for me to settle into university than I thought it would be, so I eventually decided to go with my friends in CU to their events week in the hope that I could meet some new people. Everybody was so friendly and welcoming! The talks on Christianity and the way in which people talked about God really grabbed me and encouraged me to keep going to CU events.
'God surrounded me with people to answer all my many questions about how we are to live Christian lives, how to pray and how to go about reading the Bible. After some time, I decided to become a Christian. My life has completely changed since doing so; I have found true joy.'
Taking the opportunities
It's the courage of CU students to invite those around them to events and open up the Bible with them that – humanly speaking – makes Freshers' Weeks fruitful. Durham CU student Tom is one example: 'In Freshers' Week last year I asked some new students to do Uncover with me. I got a group of five together and we had some great conversations. We didn't just stick to the text, we went all over the place, from abortion to predestination. It was a really good few weeks of having deep chats. The year progressed and one of my friends in the group became a Christian! At the end of the year she got baptised. It was so exciting to have a real picture of how God had changed her life.'
As the final few Freshers' Weeks take place, please pray for effective CU witness so even more students have an opportunity to hear and respond to the gospel.
Kate Duncan is Head of Development and Communications at UCCF: The Christian Unions. To find out more about CU Freshers' Weeks go to www.uccf.org.uk/news.
*Name changed.