Niger: YWAM kidnap
The kidnap of a pioneering American missionary on 14 October is a 'terrible tragedy' for the communities he served for 24 years, according to the local mayor, and it has raised security concerns among the country's missionary community.
World Watch Monitor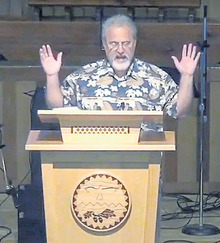 Jeff Woodke, 55, who worked for a branch of the US-based Youth With a Mission, was abducted by unknown assailants from the town of Abalak in northern Niger. They killed two guards and he was taken to eastern Mali where Mujao – a radical Islamic group – have a stronghold.
Bilou Mohamed, the mayor of Abalak said: 'This man has lived among us for years, even when it has been difficult to accompany vulnerable populations… Everyone knows his goodness.'
No stranger
After Woodke's abduction, the US embassy advised US citizens 'to take appropriate security precautions and to avoid predictable travel patterns within Niger'.
Jacques Kagninde, who heads the Esprit Bible College, said Woodke was 'no stranger' to the Tuareg community. 'He has lived in the region since 1992 and is perfectly integrated there. He feels at home in Abalak and mixes happily with the local population', he said.
Woodke is known in Abalak for his devotion to Niger and its nomadic populations. He runs several development projects among the Tuareg, focussing on farming, health, literacy, primary school education and improving access to drinking water, amongst other things. He has spoken internationally on the impact of climate change on nomadic peoples and is a pioneer of 'sustainable nomadism' – enabling nomads to maintain their traditional lifestyles in the face of increasingly frequent drought. He is the only American in his team.
The Revd Kagninde added: 'Jeff has given everything for the Tuaregs, which raises the question: how did people of malign intent kidnap a man well-known in the community without arousing suspicion among the local population, especially given that his house is next to that of the mayor of Abalak? The kidnappers must have been outsiders.'