China: religious control increased
The Chinese Government released a set of proposed amendments to its rules regulating religious affairs in early September, showing that President Xi Jinping is attempting to exert even greater control over how religion is practised.
World Watch Monitor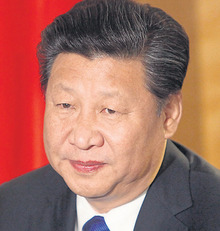 The new set of amendments, up for a one-month consultation period, includes guidelines on religious education, the types of religious organisations that can exist, where they can exist and the activities they can organise.
Yu Zhengsheng, Chairman of the Chinese People's Political Consultative Conference, emphasised the need for provincial officials to have a better overall understanding of religion, so that they are better able to resist 'foreign' religions. (The idea of resisting foreign religions is generally taken as an attack on Christianity, which is considered a product of the West, promulgated by foreign powers with the intention of destabilising Chinese harmony').
Faith and socialism
China's broadcasting regulator also is planning to curb all social and entertainment news that promotes Western lifestyles.
In April, President Xi, speaking in Beijing at the National Conference of Religious Work, said he wished to 'help religions adapt to the socialist society'.
Xi's April speech was based around four themes: unity between religious and non-religious groups in society, along with ethnic and regional unity; localisation of 'foreign' religions in order to make them more 'Chinese' and to prevent foreign infiltration; limiting religion's public influence; and Party leadership. The General Secretary called on Party cadres to strengthen their supervision of religion and encouraged them to guide and educate religious circles and their followers with socialist core values.