Facing a gunman
How do you prepare for a crisis? Can you ever be mentally, physically and spiritually ready if a disaster, or another devastation, occurred to you or to those you care for? In the material comfort of our Western culture we can be lulled into a false sense of security. How then can we prepare ourselves so that we are ready when the need arises?
Amy Adcock,

Christian, wife, mum, pastor's wife, Great Whyte Baptist Church, Ramsey, Cambridgeshire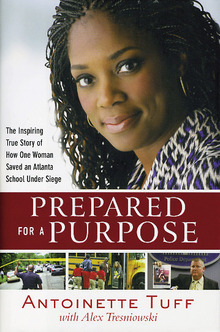 PREPARED FOR A PURPOSE
By Antoinette Tuff with Alex Tresniowski
Bethany House Publishers. 232 pages. £9.99
ISBN 978 0 764 212 635
Prepared for a Purpose relates the story of Antoinette Tuff, who found herself on 20 August 2013 as the last line of defence between 840 school children and a masked gunman in a school in Georgia.
God in control
In an honest and engaging way the author describes how God used both the 'roller-coaster' circumstances of her life and her developing relationship with Christ to prepare her for this crisis situation. This is a thoroughly enjoyable book that provides a fresh reminder that God weaves the circumstances of our lives and our relationship with him to shape each one of us for his purposes. Knowing that he is in absolute control and living life in daily, conscious dependence on him is the best preparation for that moment of crisis.