Joyful, infectious theology
... Mike Reeves has a dream
Michael Reeves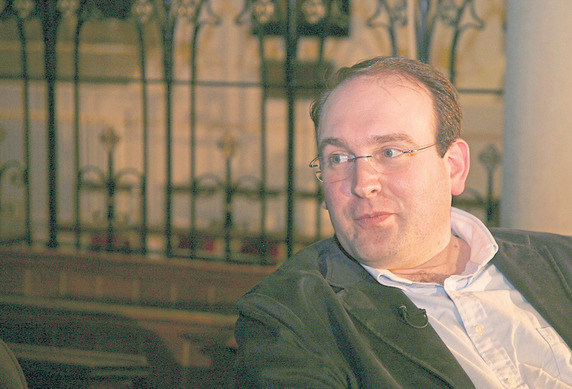 The Revd Dr Michael Reeves is Director of Union and Senior Lecturer at Wales Evangelical School of Theology.
He has written some of the most helpful and stimulating books to have come from a British theologian in recent years. Here en interviews him about his life and his most urgent project.
en: How did you become a theologian?
MR: Theology has never been a game for me. I really got into it through a profound and terrible crisis of faith. A series of events had got me doubting, and I got myself into a place where I doubted whether God exists, and how to be saved. Ultimately, I reckoned, there are two possible options: Jesus or nihilism. I felt that if nihilism was true, I wanted to kill myself; but if Jesus was true I might then, having killed myself, drop straight to hell. I was caught between hell and ultimate nothingness, and it was excruciatingly painful.
Added to all that, I wasn't getting great answers from the Christian friends I had around me. So I turned to the books and spent sleepless nights voraciously devouring Luther, Owen, Sibbes and others. Through Luther I came to settle on justification through grace alone; through Owen I came to accept the Bible as the supreme authority; through Sibbes I came to see the beauty of Christ: and through them all I came to see the possibility and joy of knowing God. In other words, through dead saints I'd come to taste the life-saving power of true theology. Pretty soon I'd resolved to help others as those dead saints had helped me.
en: What makes theology live for you?
MR: Since that time of crisis, I've always had a deep dislike for any theology that seems capable of staying in the head too long without moving the heart. Theology is about knowing God, after all, and we are brought to know God in order that we might love him and overflow with his love for those around us. Theology 'comes alive' when the glory of God is seen in it, and we are brought to rejoice in him and share his life and ways.
I now teach theology at WEST (Wales Evangelical School of Theology) and this is vital for what I do there. I have no desire to teach students in such a way that they turn into soulless eggheads, full of data but not the Spirit. Lectures should not be mere information dumps, but worshipful experiences as through knowing God better, students love him more and begin to share his love for his church and his world.
en: Why choose to teach at WEST?
MR: It came out of a meeting I had with Jonathan Stephen, the principal, and Joel Morris, the chief operating officer. Talking together, we enjoyed a quite extraordinary meeting of minds. We discovered that we shared a vision: that many godly leaders be raised up for the re-evangelisation of Europe. And we discovered that we were each prepared to think creatively and open-handedly about how best we could go about that. For the sake of mission, the management and board of WEST wanted to expand their ministry beyond the traditional categories of a theological college, making WEST a place I really wanted to be!
en:Explain your new project Union – what is it and what's the point?
MR: Union is about meeting one of the most desperate needs of the church in Europe today. Let me put it like this: I've been serving alongside student-workers for the last decade, and one of things I saw there was a large crowd of workers (in their late-20s especially), who were looking to go on to some form of church leadership. Many of them would have loved a thorough theological education, or even just something extra. But unless they were from large and wealthy churches or families, or they found one of those rare scholarships, many simply gave up the dream, found an assistant pastorate and went on – without the education.
But that was just how the Puritan movement died out. When Puritans in the late 1600s were barred from getting any education, the theological muscle of the Puritan movement wasted away in one generation. And I fear the same happening in ours. It's such irony: the pool of those who want more theology today is growing, but the number able to get a good theological education is shrinking.
Given the UK situation, that is profoundly worrying. The average age of UK church ministers is mid-late 50s. The average size of an evangelical church is 50. Meaning we are facing a coming crisis and, unless something is done to raise up ministers, these small churches aren't going to have the resources to pay for younger guys to get trained. Who is going to come through when the 60 year olds are gone?
Also, evangelicalism's growth rate in the UK seems to be 0-2%, meaning that we can't even simply replace those retiring ministers one for one. Do that and we remain stationary. Something radical and substantial needs to happen if the church is to grow.
Hence Union! It is a ministry of WEST, which is committed to quality residential theological education, with all the advantages that brings. However, we recognise that residential college education isn't for everyone: some are unable to uproot from where they are and relocate, many simply don't have the necessary finances. So, through Union we're now going to be offering an equal-quality, ultra-accessible theological education through local churches.
en:Sounds great. How's that going to work in practice?
MR: Well, we're not talking about correspondence courses or distance learning. We're currently setting up a number of learning communities (and hoping to set up more) round the country, where communities of students can learn together in real relationships with each other and with their tutors. That's always been one of the traditional advantages of residential training and education: you get time together – to collar a tutor, to chat with fellow students. Relationships are important in good learning! We want something relationally rich, with all those advantages, so that lives and friendships are formed.
That's going to happen through a mix of real and virtual learning. With both face-to-face and online lectures delivered by internationally respected theologians, we'll ensure we're delivering a world-class quality of education. And with local tutors, local tutorials and the use of online webinars, we'll ensure that students process what they're learning with both fellow students and qualified teachers.
Doing it in this way brings all sorts of advantages. Working together in and with local churches means that students will be formed in a context where doctrine can't be abstracted for long, and where church life and practice are always done within earshot of theological reflection. Another great advantage is the accessibility of it all: students won't need to relocate, and the costs can be drastically reduced. Also, students can go at the pace they want to: full-time or part-time, you can do a single course, enjoy lifelong learning, or do an accredited diploma or masters degree.
Anyone interested can go to our website, www.uniontheology.org (which is full of free resources to bless the church) and get in touch through there.
en: How can we pray for you?
MR: For Union and WEST, please pray that we, and all those involved in theological education, would be used to raise up godly, wise and well-equipped leaders who can plant or revitalise many churches for the next generation.
As for me, please pray for my time management! As well as setting up Union, I'm loving teaching at WEST and being part of college life there; I'm also writing a couple of books, one on the Reformation and one on Spurgeon. Please also pray for my own walk with the Lord, that I'd teach and minister out of rich communion with him.
Michael Reeves has authored numerous books, most recently Christ Our Life (Paternoster).