Too driven?
Have your lips ever said yes to something when your heart said no? Have you ever taken Jesus's invitation to rest (Matthew 11.28) and wondered how it can become a reality, now, in our journey through life with God?
Rob Iveson,

rector of St Wilfrid's, Davenham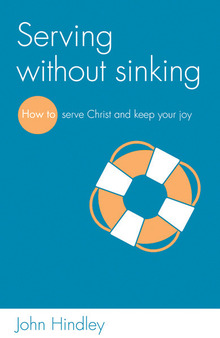 SERVING WITHOUT SINKING
How to serve Christ and keep your joy
By John Hindley
The Good Book Company. 123 pages. £7.99
ISBN 978 1 908 762 351
Buy online from The Good Book Company †
Serving without sinking is an important book and a necessary one. It exposes how driven we can be (at times subtly) – even in the name of God-honouring ministry.
Why am I doing this?
We can wrongly find significance, status and meaning outside of Jesus's primary service to us, and that mistake enslaves us. The book exposes the problem – a wrong view of God, others and ourselves. It then applies the wonderful medicine of the gospel – the Saviour who came to serve us. The book goes on to outline what it means to have a new identity and new relationship as we are caught up in the life of the Trinity: as friends of God, children of the Father, and the bride of Christ. From this we see how we can serve as a joyful response to a love that woos and captures our hearts. We see how our service is our lifelong, happy response to grace. The book also has a warm, but important, challenge at the end. It's a book that takes us to Christ – we are hopeless in ourselves but hopeful in Christ. This is theologically profound writing, but disarmingly so – it belies its theological depth in being very pastorally applied and easy to read. This is a good thing. It is theology that warms the heart and not just the head. That relational style shines in how things are said. The author writes as one of us. He doesn't have a high-handed tone, but writes as someone who has the same struggles, weaknesses and disobedience that we all have. He is honest about the issues, but recognises how transforming grace found in Jesus changes things.
This book is a real tonic. It may be a ministry – even life-transforming – to some; and those I know who have read it have been encouraged and refreshed. Very highly recommended!
† For help with online ordering please contact The Good Book Company directly. EN will receive a small commission for each sale.