Courtship and the Courts
'Politics, art, history and race all tied in a big bow.'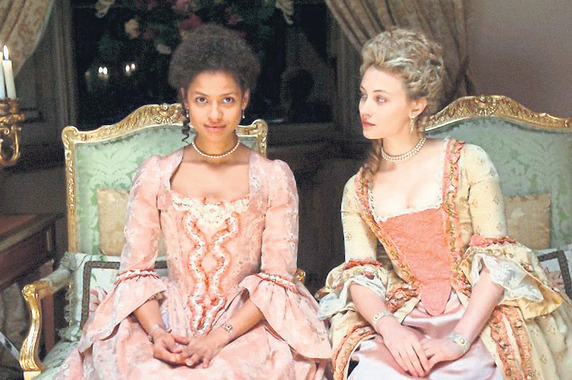 That's how director Amma Asante describes her latest film, Belle. Released in the UK in mid-June, it has met with huge acclaim both from audiences and film critics. Much of its success lies in the fact that it combines the traditional elements of a Jane Austen romance with a nuanced awareness of the difficult politics of the period.
A shocking painting
The story behind the film was inspired by a painting in Scone Palace, Scotland. Screenwriter Misan Sagay spotted the unusual image of two richly-dressed young women, one black and one white. The painting dates from 1779 yet shockingly, for that time, the women are portrayed as equals. After doing some research, Sagay discovered that it depicted Dido Elizabeth Belle and Lady Elizabeth Murray. The two women were cousins and were both raised by their aristocratic great-uncle Lord Mansfield, one-time Lord Chief Justice.
This skeletal true life story allowed the film's two crucial themes to come together. As Dido and Elizabeth, or 'Belle and Bette', negotiate the world of courtly romance, Lord Mansfield is fighting a fierce legal battle against slavery. The contrast of the genteel courting rituals and the brutality of the infamous Zong case allow the film to become more than just a simple period piece. Instead it is, in the words of the film critic Mark Kermode, 'a ripe costume drama with teeth'.
Too high, too low
The British actress Gugu Mbatha-Raw stars as Belle, the illegitimate mixed-race child of a Royal Navy Admiral, Captain Sir John Lindsay (Matthew Goode). She gives a moving portrayal of a young woman caught between two worlds. She is deemed too high in rank to dine with the servants, yet too low to dine with her family. Her colour makes her an object of fascination for some, repulsion for others, and affection for only a few.
Among her suitors are the highly appropriate Oliver Ashford (James Norton), who is entranced by her beauty despite her 'unfortunate' heritage, and the idealistic young lawyer John Davinier who declares her beautiful. Belle nonetheless struggles to find a comfortable identity and a place to belong. In one moving scene she sits at her dressing-table mirror, crying and clawing at her skin. No amount of money or status can overcome the weight of the prejudice that is targeted against her.
Breaking the rules
As much as the film is about Dido's struggle to find her place in the world and to find someone to love her, it is also about Lord Mansfield (Tom Wilkinson). He holds a hugely influential position in society at a moment when the British slave trade is being challenged. Today, he is remembered for contributing to the process that culminated its abolition in 1883. In the film Lord Mansfield has an unusual combination of gravitas and warmth. He is wedded to the conventions of his time, yet able to think far more progressively than many of his peers. 'There are rules in place which dictate how we live', he tells Belle, yet she reminds him, 'You break every rule when it matters enough, Papa'.
Fatherly love
Alongside his firm moral core, Lord Mansfield is a wonderful example of fatherly love. Defying the conventions of his time, he agrees to raise Belle as his own daughter. He constantly reassures her: 'You may not understand in this moment, but know in your heart you are loved'. Indeed, the real-life painting that inspired the film was his gift to her, a way of showing her that she was entirely equal to Elizabeth in his eyes. Lord Mansfield, as depicted in the film, may not be perfect, but he does everything in his power to show Belle that he loves her.
It is this picture of fatherly love that will appeal to many believers who will see in it a reflection of the father heart of God for us. No matter what our rank, background, gender, race, appearance or anything else, God the Father loves us. It's a heart-warming message to draw from a film that doesn't shy away from the difficult side of life, but rather reveals the redeeming power of true fatherly love in the midst of our 'barbaric world'.