BBC turns facts to fiction
The BBC's latest religious documentary is a two-part series, The Bible Hunters.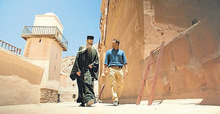 Jeff Rose, an American archaeologist, takes us on a tour of Egypt following a quest for early Bible manuscripts. Riding his motorbike through barren desert scenery, there were times when it felt closer to an episode of Top Gear. Why did he not just save the fuel and ride with the camera team in their car? But more pertinent questions are raised by the programme's narrative. The selected scholars who are interviewed for their sound-bite opinions are all carefully chosen, or their words edited, to contribute to the general impression that the biblical text is unreliable.