Mary Whitehouse's return
She's enjoyed something of a renaissance in recent years. Once she was widely mocked as a puritanical prude. But now, commentators, journalists and campaigners are asking: 'Was Mary Whitehouse right all along?' She has returned to the news.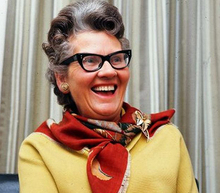 For those who don't know, Mary Whitehouse came to prominence in the late 1960s and 1970s. It was a time of huge social change. Laws were being repealed as Britain sought to break free from its cultural past and enter a new, more progressive era. Nowhere was this more evident than in the area of sex and relationships. The 'Swinging Sixties' saw a sexual revolution which promised liberation and freedom. It was summed up by Roy Jenkins, the then Home Secretary, who said: 'The permissive society is the civilised society'.