Scrambled eggs and evangelism?
My one true culinary accomplishment is scrambled eggs. I am, given a microwave, a Pyrex bowl, a fork and the ingredients, dare I say it, a master of the art.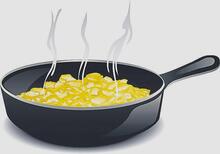 This ability was honed over years of cooking Sunday breakfast for hungry children. The resulting repast needs to be fluffy, moderately moist, well seasoned and topped off with black pepper. But the cooking time and the proportions of constituents must be just right.