Turkey: arrests 9 years on
Five men who were convicted on 28 September 2016 of the murders of three Christians in Malatya, Turkey in 2007, were arrested on 29 September 2016 amid concerns that they might flee the country.
Christian Solidarity Worldwide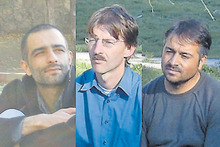 The three Christians, two Turkish men and Tillman Geske, a German, were killed at the offices of Zirve Publishing House in April 2007. The five convicted men, who were apprehended at the scene of the crime, were released on bail in 2014, following controversial judicial amendments to terrorism laws that reduced the time suspects can be held without conviction. Following their conviction, they were allowed home pending the outcome of an appeal, but were arrested amid concerns they might abscond.