Philippines: pastor shot
Christians on the island of Mindanao believe insurgents with the New People's Army (NPA), the armed wing of the Communist Party of the Philippines, were responsible for shooting Pastor Feliciano 'Cris' Lasawang (50) and his 24-year-old son Darwin as they bathed in the Culaman River north of Jose Abad Santos, Davao del Sur Province, early one morning in November.
Morning Star News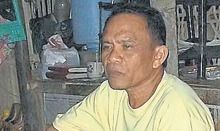 Pastor Lasawang was shot three times in the body and his son once in the face. The two men died at the site. They had conducted baptisms in the same river where they died, according to US-based Christian Aid Mission, which assists native ministries around the world. NPA rebels are suspected because the guerrillas believe church growth dampens insurgent recruitment efforts, and the pastor had received reports that the Communist militants were monitoring his movements.