SEE YOU AT SIX ON SUNDAY?
'Why would you want to start an evening service? You've got your hands full as it is, haven't you? Everyone else is closing down their Sunday evening works!'
That was the gist of the advice offered to the Christ Church Southampton elders from more than one source when they floated the idea of getting something going on a Sunday evening!
EN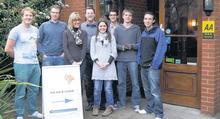 Despite that, as the 'storm of the century' gathered pace outside in October, with a local hotel in Portswood Southampton as its home, 'The Six O'Clock' was born.