C of E evangelicals pledge action after vote
Evangelical leaders in the Church of England are pledging to do all they can to 'ensure evangelical life and witness' can continue in the denomination following a contentious vote on same-sex blessings.
en staff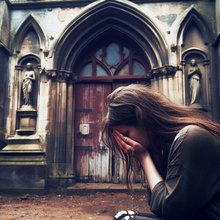 The C of E's General Synod – its 'parliament' with three houses: of bishops, clergy and laity – voted on a complex series of motions and amendments with the result that stand-alone services for the blessing of gay and lesbian couples now look likely to go ahead on a 'trial' basis.
It is unclear precisely when this will take place, though some think it is likely to happen from mid-December, once a meeting of the church's bishops has taken place. The so-called 'prayers of love and faith' are also expected to be commended at that point.
Evangelical church ministers will not be expected or compelled to take part. It is believed that the two Archbishops of Canterbury and York will use a procedure under church law which allows them to 'authorise liturgy for an experimental period,' the Church Times reported.
One expert in Synod procedure who asked not to be named told en: 'Technically the Synod has [just] asked the House of Bishops to "consider" standalone services.
'[But] given the House of Bishops voted in favour of the amendment, and both archbishops have said they are in support, it's likely it will happen.
'If it's by a trial authorisation, then that's the archbishops alone who agree to do it. And that can be indefinite and limited to certain parishes.
'But ultimately it isn't the liturgy of the CofE until it has had a two-thirds majority in all three houses. And that won't happen.' The two-thirds majority is higher than the threshold required for this most recent vote, when support for the 'trial' services was wafer-thin.
Speaking in the Synod debate, Vaughan Roberts, Rector of St Ebbe's in Oxford, said: 'If this motion is passed there will be a tearing of the fabric of the Church of England at the deepest level – in every parish, deanery and diocese.'
And Ben John declared: 'We have lost confidence in the Bible and what it teaches.'
However, the final motion was carried in all three Houses: Bishops 23-10, Clergy 100-93, and Laity 104-100. More evangelical bishops spoke out and voted against the plans than had at the Synod earlier this year. The precise amendment which inserted a clause calling for a trial period for stand-alone blessing services – which bear more than a passing resemblance to weddings – was passed by just one vote in the House of Laity.
Reacting within an hour of the vote, the Church of England Evangelical Council (CEEC) – an umbrella group representing various organisations such as Church Society and many others – said it would 'in the next few days… announce a series of provisions for orthodox evangelicals and work to do all it can to ensure evangelical life and witness in the Church of England continues for years to come.'
John Dunnett, CEEC national director, said: 'CEEC is grieved and saddened that the General Synod passed a motion earlier this afternoon to continue with the implementation of the bishops' proposals. These proposals depart from a biblical understanding of sex and marriage, in particular by enabling blessings for same sex couples in parish churches. This decision follows a process that has been widely observed as unduly hasty, incomplete and haphazard.
'This is, however, more than just a departure from the biblical understanding of sex and marriage. Sadly, today marks a 'watershed' moment, in that it appears that the Church of England no longer sees Scripture as our supreme authority.
'If the bishops continue with the implementation of their proposals, we believe this will have a devastating impact on churches across the country and beyond. It will tear local parish congregations apart, damage the relationship between large numbers of clergy and their bishops and cause churches across the dioceses to feel as though their shepherds have abandoned them. It may also serve a final blow to the unity of the Anglican Communion.
'CEEC longs for a resurgence of faithfulness to biblical teaching, which would deepen the unity for which Jesus prayed in John 17.
'CEEC is committed to supporting the ministry of orthodox evangelical lay people and ministers across the dioceses.'
After the debate, the Archbishop of Canterbury, Justin Welby, and the Archbishop of York, Stephen Cottrell, said: 'We have heard loud and clear, through an extensive debate over two days, the depth of feeling across the Church on these hugely important questions.
'In particular, we have heard deep and heartfelt concern about the way the bishops have sought to implement Synod's earlier decision on the Prayers of Love and Faith.
'So while this motion was passed, narrowly, we do not underestimate the depth of feeling and will reflect on all that we have heard as we seek to move forward together.'
Meanwhile, the bishops of the Global South Fellowship of Anglican Churches (GSFA), said: 'We are saddened to know that the General Synod of the Church of England has passed a resolution to bless same sex unions despite almost 50% of the Synod opposing the bishops' proposal. This disastrous decision creates the same serious consequences of differentiation and division as in other provinces and further fractures our beloved Anglican Communion. We wholeheartedly support the faithful bishops, clergy and laity within the Church of England and assure them of our continuing prayers and pastoral commitment as a global body.' They added, quoting Revelation 2:10: 'Be faithful unto death, and I will give you the crown of life.'
Rob Munro, conservative evangelical Bishop of Ebbsfleet, said: 'There is clearly now an urgent need for the formal structural pastoral provision for conscientious disagreement for those of us who believe the use of prayers for same-sex couples is indicative of a change to the doctrine of marriage and sexual ethics in ways that put people's faith and salvation at risk, that is, an essential matter.'
He added: 'That process of working out the details of our responses should be done together with others, and not separately. I have been really encouraged to see how those who are "orthodox", that is upholding the biblical, traditional views of marriage and sexual activity, for example in the CEEC or the "Alliance", have found a greater unity of purpose and fellowship together. Let me encourage you to hold together with them as they work to ensure that the finally proposed "formal structural pastoral provision" is coherent, sufficient and conscientiously able to bear the weight that it will have to bear. The doctrine of the Church of England continues to assert the supremacy of Scripture and the sanctity of marriage; it remains our responsibility to respond to error in the Church by contending for the faith in truth and love for the honour of Jesus.'
Archbishop should resign, says Church Society's Lee Gatiss after Synod vote: