Question of evil
This latest contribution to the beautifully designed, multi-coloured, logo-embossed 'Questions Christians Ask' series tackles a question that is undeniably relevant. Confronted by events in the wider world, and rocked by tragedies in our own lives, we are all tempted at times to doubt that God really is in control. This book reassures us that he is sovereign and good, and helps us understand how that can be in the face of so much suffering.
Marcus Nodder,

Senior Minister, St Peter's Barge www.stpetersbarge.org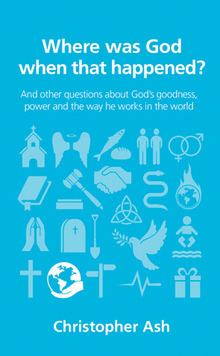 WHERE WAS GOD WHEN THAT HAPPENED?
By Christopher Ash
The Good Book Company. 95 pages. £3.99
ISBN 978 1 910 307 236
Buy online from The Good Book Company †
After outlining six wrong answers to the question, the book takes as its text the line from the Lord's Prayer, 'Your kingdom come, your will be done, on earth as it is in heaven'.
The first half of the book looks at how God's will is already done here on earth; the second half at what it means that one day it will be done on earth as it is in heaven. The focus of each of the seven chapters is on God himself, and the aim is to train and help us to look to him and to believe more deeply what the Bible tells us about him.
Head-on tackle
Although weighing in at less than 100 pages, this is not a superficial book. It tackles head-on big and complex issues about God's sovereignty and will and evil and prayer. It is theologically deep and precise, biblically rooted, and carefully nuanced, but manages to do all this in an accessible way. It is firmly grounded in the real world of divorce, cancer, church scandal, war, natural disaster, mental illness, Islamic fundamentalism, headaches, bereavement, and disability. Practical applications are spelled out, such as five benefits of knowing God as Father, and five ways God's patience helps us. And, in addition, there are six separate boxes tackling questions such as how we can stop worrying and trust God more, and how we can use the truth of God's sovereignty to comfort someone who is suffering.
For wheelchairs and armchairs
It is pastorally sensitive in dealing with issues that touch us deeply, written with a caring pastor's heart. This is a book you could give to the wheelchair questioner as well as to the armchair one. Any church member would benefit from it, but do buy a copy for your pastor as well. Better still, buy the whole series – and make sure your church bookstall stocks them!
† For help with online ordering please contact The Good Book Company directly. EN will receive a small commission for each sale.