The fastest-growing church? Maybe not what you think
A new report from the Bible Society has revealed that the fastest-growing church in the UK is the Chinese Church.
Milla Ling-Davies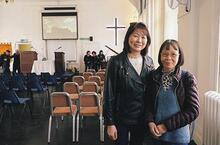 In just the last two years, there has been 29% growth in the Chinese Church in the UK – a large jump from the 7% growth they'd seen in the previous ten years. This is largely due to people emigrating from Hong Kong to Britain.