Stories of intimidation
Some claim that Christians in the West are not persecuted, and we should be careful in playing the victim card. Whilst we are not (yet) being thrown into jail, there is a trend towards discrimination which is a more subtle and insidious kind of attack. From Australia comes news which indicates the kind of issues we are going to face.
David Robertson,

The ASK Project, Sydney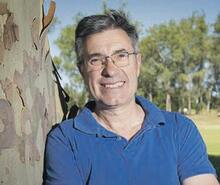 In October, The Australian newspaper published a revealing and disturbing article. It was a full-length feature in their weekend magazine which told the story of a gay couple who had been part of a church in the Armidale Anglican church – until a new bishop was appointed – The Revd Rod Chiswell (see photo). The piece was a perfect hatchet job – painting a picture of the bad bishop vs the loving gay couple and the nice congregation wanting to stand by their men. There have been threats of legal action and the subsequent backlash in the press, and more especially on social media, has been fierce.