Street Preacher wins damages
West Yorkshire Police has agreed to pay Huddersfield street preacher David McConnell (see photo) £3,250 in damages for wrongful arrest, false imprisonment and breach of human rights.
Christian Institute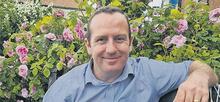 McConnell was preaching in 2019 when he faced hostile questions about abortion and sexuality, issues he had not been preaching about. Complaints were made and he was arrested without being informed as to what offence he was suspected of committing. In a case backed by the Christian Institute, the police force admitted liability.