Preaching Jesus was breaching Covid rules
An open-air preacher arrested for preaching on Sutton High Street, South London on Easter Sunday 2020 has had his fine for breaching Covid rules increased by magistrates.
Nicola Laver; Christian Concern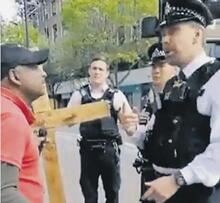 An officer reportedly told Andrew Sathiyavan, a full-time voluntary worker for Gospel Light Ministries, that preaching in the street was 'unacceptable'. Police handcuffed him, took him to a police station and fined him £400.