Living in Love and Faith – a primer...
Revd Dr Ian Paul tells us what it's about and why evangelicals outside the CofE should be aware and praying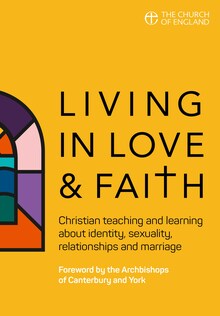 How has the publication of Living in Love and Faith come about?
The Church of England has officially been discussing the whole question of sexuality, in particular same-sex relationships, for 50 years. After a series of reports, some controversial, and a process of 'Shared Conversations', it is no closer to agreeing on whether there are good reasons to change its understanding of marriage. When the bishops said this to General Synod, there was a minor rebellion, and as a result, this 'teaching resource' was developed.
What resources does it include?
The two main resources are a substantial book and a video-based course. The book has sections exploring what the Bible teaches, what has been happening in culture, what science says, how we handle disagreements as Christians. The course mixes personal stories from a range of people, reflection on Biblical passages, and times of discussion.
There are additional video resources available online as well.
What's good about it?
It promotes some honest discussion, and encourages listening to the different viewpoints in the church and culture – something that is all too often missing from what become very heated arguments. There is some good explanation of the Biblical material, and at several points there is honest admission that the sharply conflicting viewpoints might not be reconcilable.
What's not good about it?
The material is inevitably selective, and can feel as though a particular agenda is being pushed covertly. There is little critical evaluation of what is happening in culture, and some questions as to whether the section on science is complete.
The course material is dominated by examples of contemporary relationships that most starkly challenge the Church's current understanding of marriage – same-sex marriages, and marriages of transgender people with those of the same and opposite sex. In the context of group discussion, there is a powerful dynamic that makes it difficult to question people's personal stories – and there is little help in resolving the stark contrast between these stories and the Biblical material on the nature of marriage.
What both book and course demonstrate is the extreme complexity of the issues – and the evidence is that, when presented with such complexity, those with different views find themselves more entrenched in their opposing positions.
How can evangelicals engage with it?
Confidently! – though we will need to be prepared to do some homework and engage in a positive and constructive tone. In the book there is a clear attempt to present the different viewpoints on the Biblical material, and the danger here is concluding: 'Well, the experts disagree'. So evangelicals will need to dig deeper be aware of the weaknesses of different positions.
The course material is much briefer, but the obvious direction of the Biblical material is harder to avoid. The main challenge here is the contrast between personal stories that carry emotional weight and the stark prohibitions in the Biblical texts. So a key question to explore is: What did both Jesus and Paul, as pastors, actually think about questions of sexuality? Are their approaches, set out in Scripture, ones that we can follow? The question that then presents itself quite quickly is whether Scripture is a trustworthy guide here, to which evangelicals (and faithful Anglicans) will have a positive answer!
What resources are available to help churches?
Church Society has already produced resources on its website, and the Church of England Evangelical Council will be doing the same. Anglican theologian Martin Davie has written Living in Love and Faith: A Concise Introduction and Review (available from eden. co.uk for £3.85) and he is about to publish Where are the Sheep Being Led? Living in Love and Faith: A Biblical Response (available from www.dictumpress.com shortly) which also has an introduction from Michael Nazir-Ali.
Some years ago I wrote a Grove booklet Same-sex Unions: The Key Biblical Texts which gives an accessible overview of what Scripture actually says (available from www. grovebooks.co.uk) and I have more in-depth articles on my website www.psephizo.com. There are also some good books around; one of the best is Preston Sprinkle's People to be Loved because it combines pastoral reality with careful study of the Bible.
What happens next in the Church of England?
Nobody knows! There is a 'Next Steps' group which will be recommending what happens now to the House of Bishops, who will report to the General Synod in July 2022. But I am not sure anyone knows what that might look like.
Should evangelicals be optimistic or gloomy?
Both! On the one hand, the pressure from our culture sometimes feels inexorable, and within the Church there is some relentless lobbying. On the other hand, many of those lobbying for change feel as though nothing will ever happen, and they seem more depressed about the process than evangelicals!
For there to be any recognition of same-sex relationships formally, the Church will have to change its doctrine of marriage. To do that, it would need to change its liturgy, its canon law, and its historical roots in the Book of Common Prayer and The Thirty- nine Articles. That is hard to imagine – and the idea of some 'informal' but official recognition has already been rejected.
Why should non-Anglicans be interested or concerned about this?
Positively – because a constructive conversation about these divisive issues might offer a model for other churches.
Negatively – because the CofE stands in a particular place in the nation's life. If it changes its understanding of marriage, then that could signal something significant for the place of historic Christian faith in our land.
Ian Paul is Associate Minister at St Nic's Nottingham, editor at Grove Books Ltd, and a member of the General Synod and the Archbishops' Council of the Church of England. He writes at www.psephizo.com