Saudis tell UN that Muslim prejudice is 'racism'
Saudi Arabia has called the United Nations to focus on 'eliminating Islamophobia' as an outworking of tackling online racism and xenophobia.
Barnabas Fund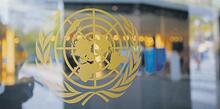 Meshaal Bin Ali Al Balawi, Saudi's Head of Human Rights at the United Nations Mission in Geneva, addressed the Human Rights Council, flagging the internet as a 'space for practicing racism' as he called for the UN to work towards finding a 'solution'. The Saudi leader stated that the world needs to 'prohibit racial discrimination in all its forms'.