FI: expanding support
Despite a fall in numbers, the Christian organisation, Friends International (FI), has expanded its support for international students.
Friends International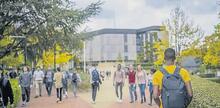 Online courses and a bespoke mobile app to support students are ready to roll out in September for the new student cohort. Southampton University invited in the FI team because it recognised the problems facing international students, including protective measures restricting access to relaxed socialising which will still be in place at the start of term.