LCM: the vulnerable need Jesus
I've had people worry that the work of the London City Mission might be exploitative. Elderly people can be ripped off by someone pretending to be a friend; a homeless person could be exploited by heavy shepherding whilst they are weak.
London City Mission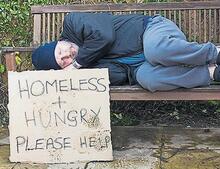 That risk has been used by some to suggest that we should avoid evangelism amongst children and vulnerable adults lest we are accused of spiritual abuse. And yet I can think of no greater abuse than to know the good news of Jesus and to willingly hold it back from someone in desperate need. The vulnerable need Jesus!