Australia: when Prime Ministers pray
It's not every week that the Prime Minister of a Western nation stands before a church congregation and leads spontaneous community prayer.
Professor Peter Riddell,

Vice Principal Academic at Melbourne School of Theology and Senior Fellow of Kairos Journal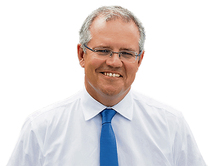 But on 30 September, new Australian Prime Minister Scott Morrison did just that. While visiting Planetshakers, a large Pentecostal church in Melbourne, Mr Morrison ascended the worship platform and led prayers for the victims of the Indonesian earthquake and tsunami and also for Australian farmers locked in the grip of a drought-induced financial crisis.
Refugee debates
Scott Morrison replaced Malcolm Turnbull as Prime Minister in late August after Mr Turnbull lost the confidence of his governing Liberal Party. Mr Morrison has served a number of roles in recent Australian governments, but was especially prominent in enforcing the 'Stop the Boats' policy under former Prime Minister Tony Abbott. This policy involved the detention on the Pacific Islands of Nauru and Manus Island of thousands of newly-arriving asylum seekers who had sought refuge in Australia through people-smuggling channels. Around 2,000 had drowned at sea during the two phases of the asylum-seeker boat arrivals since the year 2000.
The reception by Christians of Mr Morrison as Prime Minister has been mixed. He is an active churchgoer in the Australian Christian Churches, the Pentecostal denomination in Australia. Many Christians saw his appointment to the highest position in Australia as a blessing from God. One correspondent to the Anglican newspaper Eternity declared: 'I am so glad that, finally, we have a true Christian who will rely on our God for his direction on how to run this country.' Another similarly declared: 'Praise God for this man and his dependence on the living God for leading the country back to the One and Only.'
Christian opposition
However, some other Christians responded badly to Mr Morrison's appointment, with one correspondent calling on him to adopt a more welcoming refugee policy: 'I have been dismayed by … the dismissive and disdainful way he has treated real refugees and spoken of them. They are also made in the image of their Creator. We can do better.'
He also attracted opposition from some Christians who did not look kindly on his Pentecostal connections. One labelled him as 'happy clappy' and lamented: 'Next we will have the Parliament hijacked by Evangelical Pentecostal values.'
Public prayer
When Mr Morrison came forward to lead prayers for earthquake-struck Indonesia and Australia's drought-stricken farmers on September 30, the event was certainly newsworthy. After all, such behaviour is out of keeping with the increasingly humanistic political leadership in the West.
However, Australia's mostly secular population barely noticed this event, being preoccupied with football grand finals and the balmy spring weather. But some Christians did notice Mr Morrison's prayers, captured by a member of the congregation and posted on Facebook. Some railed against him. One Christian reader commented: 'When refugees on Manus and Nauru pray and the Prime Minister of Australia prays, I know which one God listens to. FYI it's not the PM.' Another Christian with a similar sense of certainty about the mind of God wrote: 'His behaviour is very unChristian, but God will be the judge of that in the end… (although I think we already know what God will say).'
The invective against the Prime Minister by Christians since his public prayer has been acute. He has been variously labelled as 'a great pretender', 'a wicked man', and 'an unfathomable hypocrite', with most of these comments directed to his staunch opposition to people-smuggling and asylum boats.
Tall poppies
On the whole, Christians in Australia seem to be divided about having a believer as Prime Minister. No doubt many of those who oppose him do so on the grounds of the refugee policy with which he has been associated. It should also be said, however, that Australia's inglorious 'tall poppy syndrome' no doubt has a role to play in the response to Mr Morrison. That syndrome is based on the notion that when one of the herd rises above the pack, he should be brought down with a withering barrage of criticism.
Mr Morrison sees himself simply as an ordinary believer, and his public prayer on September 30 was meant to be no more than a simple act of worship and supplication. It seems that many Christians in Australia smell an agenda where there may well have been none.