Turkey: Good Morning!
A former Turkish soap-opera star became the host of the first live daily Christian women's show on the Christian satellite platform SAT-7, it was reported in August.
SAT-7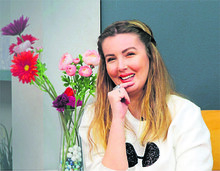 In her ten-year acting career, 33-year-old Şemsa Deniz Tolunay has appeared in long-running soaps, historic drama series and comedy roles. But she admits how much more at ease she is in her new role.
'Soap operas are very popular here, but I wasn't very comfortable,' Tolunay said. In TV dramas, 'it's about money and about popularity'.
Challenging attitudes to women
Tolunay said that Turkey's TV dramas also reinforce attitudes to women that need challenging. 'There is a wrong point of view towards women in this country and I wanted to do something to change that,' she says. 'In soap operas here, people look at you as if you are an object. They notice your figure; they are not thinking about your mind or your soul. I wanted to change that so that people will look to see more of the inside of a woman, her mind and her thoughts and the beauty!'
Starting with Scripture
Homemade presents a vibrant, life-affirming perspective as it invites viewers into an on-set living room and kitchen where Tolunay starts each show with a Scripture reading and then talks with guests from all walks of life. A chef (Şemsa's father) introduces what he is going to cook and gets busy in the kitchen. Then actors, psychologists, lawyers, writers, and other professionals join Tolunay – either to talk about their work or to grapple with a host of practical issues. These range from how to care for children when they are sick through to dealing with depression or addressing violence against women.
One show a week has a focus on books and three shows out of five 'are mostly connected to Jesus, talking about his life and sharing about him'.
Live calls
The programme also takes live telephone calls. Some of the questions are looking for advice from the doctor, but some are spiritual.
Christians in Turkey are often viewed with suspicion and misrepresented in sections of the media, so a willingness to appear on a Christian channel is a powerful endorsement.