India: 'God is on the move'
For a new believer in northern India, it's not uncommon to be baptised at midnight, not because it's more meaningful by moonlight, but because the cover of darkness offers more safety in a region where Christians increasingly face persecution.
Langham Partnership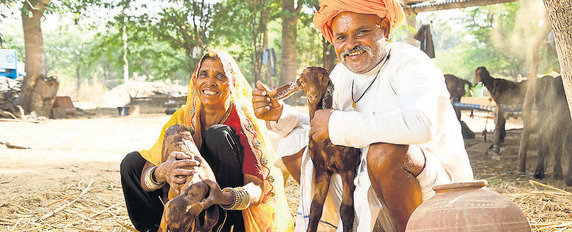 For a new believer, gaining ultimate freedom in Christ often means losing other freedoms, like drawing water from the community well or walking down the street without fear of being beaten. Amazingly, churches are growing where many of the 400 million people are in desperate poverty and most have never heard of Jesus.
To Rohan*, it is a vast mission field. 'God is on the move,' he shared. 'There is a tremendous growth that is happening.'
No leaders
Along with growth, Rohan recognises one great challenge: 'We don't have enough people to go and reach out to these people who are responding to the gospel. We don't have enough leaders who are qualified to take care of the church into a deeper level.'
After receiving his PhD in Theology, Rohan became the principal of a Bible college in northern India, and the missions director for a large church network in the region. He is actively involved in developing biblical leaders for mission and ministry across India. Many of the students who graduate from the Bible college go on to plant new churches, serving as pastors and leaders in some of the most remote villages. More than 1,800 churches have been planted and nurtured with the help of students and leaders trained through the Bible college and the church missions network.
Pastor Bahula* leads one of these churches, which draws more than 1,000 from surrounding villages. He said: 'The leaders of the Bible college and churches come here and train us. They equip us with the Word of God and that helps us disciple our new believers.'
Laksh* is one of these believers. He and his wife came to faith after the loss of their daughter. Like many Christians in the region, they were mocked and persecuted by their community, who told them their daughter's death was punishment for their faith in Christ. Laksh said: 'We never believed those people because we came to know the living Lord. We believe in the Lord even though our society condemned us. He has blessed us.'
No limits
Rohan's impact extends beyond the seminary and church walls and out into the surrounding community. Rohan and his network of leaders began to notice that as churches were exploding with growth, many of the children were not educated. Traditionally, the very poor or lower-caste members aren't able to attend school.
Rohan wanted to address this literacy problem. This led to the development of a school in one of the rural villages, a nursery through to 12th-grade school that grew from five to 1,100 students. With the goal of strengthening the church by providing quality education to Christian children, today there are several campuses throughout India. Students from the Bible college regularly visit to teach classes and minister at the schools, and graduates of the school have gone on to become teachers, doctors or pastors.
Holistic approach
While their children are receiving a quality education, many parents continue to struggle. Especially in the more remote villages, Christians represent some of the poorest of the poor. Cast out by their families and communities and shunned in the marketplace, many exist on only 30 rupees, the equivalent of 30 pence, per day.
So, in keeping with his holistic approach to ministry – that ministry happens not just within the walls of a church – Rohan and several other leaders developed a micro-lending programme for believers in the region. 600 families have been able to make use of the small loans to start businesses, lifting themselves out of poverty. Rohan estimates that today, most of these families are living on almost £3 per day.
Bahi*, a homemaker and mother of two small children and whose husband is a masonry worker, received a loan to purchase two small goats, which she uses to provide milk for her children. She will be able to sell the extra milk and any offspring in the marketplace.
The driving principal behind Rohan's vision for developing biblical leaders is about bringing God's best for the least. 'God enabled me to receive the best education, and I want to use it for the least of our country, the least of our society,' he shared. Rohan's story is a powerful example of how one trained leader can impact thousands of lives for Christ.
*Names have been changed to protect those living and serving in this sensitive region.