Zimbabwe: turn to Christ
A cursory look into the open Zimbabwean landscape often reveals long-bearded men with clean-shaved heads sitting opposite headscarfed woman wearing long white garments. Known as Vapostori (Apostles), the gatherings are of pseudo-Christian groups who mix traditional African beliefs with select Bible teachings – mostly drawn from the Old Testament.
Operation Mobilisation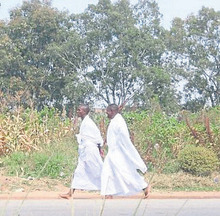 When Pastor Tafara* attended an OM outreach to a Vapostori stronghold in Zimbabwe, little did he know he would be reaching out to more and more of the groups. On a family visit in another area, Tafara took an opportunity to preach at a gospel rally and 42 people indicated they wanted to follow Christ. 'I expected resistance, but the people came to Christ in their numbers,' said Pastor Tafara jovially.