Grenfell Tower: one year on
Last June, the 24-storey tower block of public housing flats in North Kensington was engulfed in an horrific fire.
Graham Miller & Jackie Blanchflower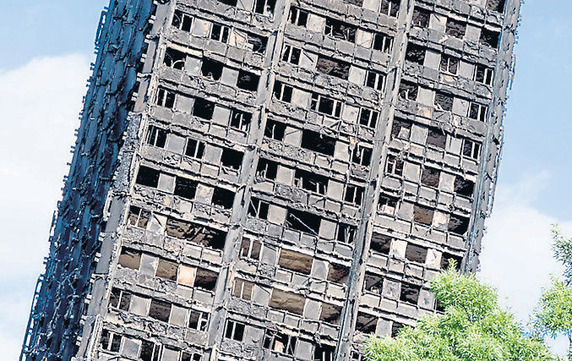 In the early hours of Wednesday, 14 June 2017, a fire broke out at Grenfell Tower in West London. 71 people lost their lives. The fire continues to impact the whole nation.
Graham Miller, Chief Executive of London City Mission, and Jackie Blanchflower, Team Leader at Latymer Community Church, spoke to Andrew Gordon on behalf of en. Both have a knowledge of what happened.
en: What was your immediate reaction when you first heard about the fire?
GM: I heard about the fire before falling asleep and just thought of the inconvenience of families evacuating.
When I woke up and realised the fire was still burning with people trapped, my stomach tightened and I prayed. I couldn't think straight, but I sent a note to my team to mobilise prayer and resources.
JB: Complete horror. I was woken in the night by one of our housemates and saw the fire from their bedroom window as I ran downstairs. Nothing prepared me for what I saw – the whole tower ablaze. I heard someone I knew in the street shouting – they had escaped from the tower and had run to my house for refuge. On the way they had met another friend who was supporting them as they ran.
Offers of help
en: What help were you able to offer?
GM: Our Ministry Director, Duncan Cuthill, got on the phone to the Latymer Community Church close to the foot of Grenfell Tower and made a bank transfer to cover immediate needs that morning.
We told our workers in the area to make themselves known to the church leadership, so they could help. A couple of our Mission Pioneers went straight over with a minibus of goods. We prayed with the church leadership in those first days, and when there was fear of violence because of a call for a 'day of rage'. We were feeling overwhelmed by the recent terror attacks in London followed by the fire and felt a strong urge to respond in prayer.
JB: Personally, I provided shelter till daylight for a friend who had escaped the fire. One of our staff team opened the Latymer Community Church at just after 2am as a place of refuge for people who had escaped the tower or been evacuated from neighbouring buildings.
People were in the streets in complete shock and distress watching the tower burn with nowhere else to go. We spent the next two to three weeks helping to provide emotional, practical and spiritual support to those immediately affected, relatives and friends looking for loved ones, the wider community and the volunteers who came to help. Huge amounts of food were cooked on site or provided via the generous donations of local businesses for the bereaved, survivors, evacuees and volunteers. A lot of our time was spent sorting out donations and arranging storage.
The generosity of the whole nation was overwhelming and the logistics considerable. Very early on the first day the Billy Graham Disaster Response Team asked us if their help was needed and we welcomed them with open arms. They did a fantastic job supporting us as a church and of course those seeking our help. We put up a 'prayer wall' on our building where people could write their prayers/ laments/cries of pain and loss. This has become a focus as a memorial wall.
Tremendous shock
en: How has the community been affected?
GM: There was an immediate coming together. There was a real spirit of co-operation between the Muslim youngsters volunteering through Ramadan, the more middle-class Kensington residents at the local rugby club, and the many Christians who turned up at all the local churches to sort and distribute food and clothing.
In the longer term there remains great hurt, sorrow and anger in the community and many questions to be answered. The systemic failings and injustices that led to safety fears being overlooked remain to be addressed. Many kids are suffering from the trauma they have been through and families haven't returned to nearby accommodation months after the fire.
JB: The shock has been tremendous and the implications of losing 71 people who were the faces we saw in our community is huge. Everyone has lost someone. However, we have been learning to lament through the memorial walls, monthly silent marches and the six month anniversary at St Paul's Cathedral. As with any grief, we go in cycles of shock, despair and anger, with some of us seeing glimmers of recovery and hope. We are all walking our own journey of grief, but there is also strength in our shared loss, which is so powerfully felt on the silent marches. Many households are still displaced, some will never return to the area and some are still in temporary accommodation and hotels. Trust between the people and the local authority has been broken. It will take a lot of time and visible evidence of change for that trust to be restored.
Deeply rooted
en: Are there plans for future ministry?
GM: Our desire is never to impose from outside, but to serve local churches on the ground.
We have been talking to churches in North Kensington, looking for ways to co-operate in mission more closely. We hope to have two additional full-time missionaries working in the area this year.
JB: Latymer Community Church was founded in 1863 to bring the gospel to the Latimer Road area of North Kensington. We have been deeply rooted in the community reaching out to our neighbours and we will continue to do so. Helping people to return to their normal routines is important and we managed to restart our 'normal' programme of activities after about three weeks.
God is at work in this crisis and there are many opportunities to pray with people, share testimony and support people in their faith journey. People want to gather, to be together so we are providing opportunities for this through both social and spiritual activities. A London City Mission missionary started working with us in March. We are thankful to have them join our team. God has blessed us so much through the support of the wider body of Christ. His church working together is amazing.
en: Tell us one thing the public need to understand about the situation at Grenfell.
GM: The Grenfell incident is sometimes mischaracterised in the language of class-war between the wealthy of South Kensington and the poor helpless immigrants of North Kensington. This falsely devalues the people of North Kensington. The Grenfell Tower community are a vibrant, intelligent, motivated bunch of all kinds of Londoners. There is a frustration that their voice didn't get heard by local government. North Kensington residents are not the social security scroungers portrayed in the tabloids. They are neither extraordinary saints nor sinners – they are merely Londoners in desperate need of Jesus Christ.
JB: Something I am also having to learn and struggle with – the situation is very complex. It is not easy to rehouse people due to the chronic housing shortage, complexities of tenancy arrangements, personal circumstances, etc. Money alone cannot solve things. Things cannot just be 'made better'. It takes time to sort things out.
How to pray
en: In what ways can en readers pray for Grenfell over the next few months?
GM: Pray that local churches wouldn't be led off course by all that has happened. It would be easy to become mere providers of social services. Pray that the church would continue in their mission to share the love of God.
JB: Thank you for every prayer you have prayed in relation to Grenfell. God has provided in so many ways including dissipating
potentially violent gatherings. Please pray for:
1. The Bereaved, Survivors and Evacuees. Many watched helplessly from the ground as the fire burned in the tower which trapped their loved ones. Survivors have lost their homes. Pray that the God of all comfort will comfort those who mourn their losses.
2. Pray for those in authority. Leaders need wisdom and courage. There was a power vacuum caused by the slow response to the disaster by the local authority. It is hard for them to make decisions and take responsibility.
3. Pray for the Public Inquiry and the Criminal Investigation. Pray that both will be thorough and provide answers for those directly affected by Grenfell and also address wider safety issues. May justice be seen to be done and may the community be able to find a measure of peace through this.
4. Pray for the emergency services. Thank God for the fire fighters, police, ambulance service, etc. Pray for those traumatised by their experiences, may they get the help they need.
5. Pray for the wider community. They feel the loss and are still seeing the burnt-out building every day. Pray for the wrapping of the building – that it will be completed quickly with no further delays.
6. Pray for the church. Pray they share Jesus and that through him people will find hope, peace and healing. Thank God for the unity amongst the local churches and ask for them to be bold in fulfilling the calling God has on them at this time.
The contribution from Graham Miller was prepared before he went on compassionate leave.