India: evangelists imprisoned, 30 converted in jail!
After being framed on false charges of converting Hindus, two Christians in eastern India spent a month in jail where they saw 30 people converted to Christ!
Morning Star News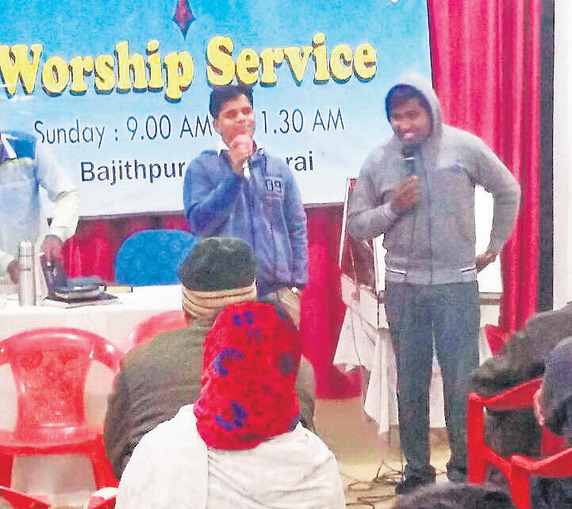 Whilst meeting someone who had contacted Pastor Kumar who claimed they wanted to know about Jesus, the two were questioned about the monetary cost of conversion. As they explained that conversion does not work this way, a group began accusing them of 'converting' people and calling for their arrest.
The two Christians were charged with destroying, damaging or defiling a place of worship or sacred object with intent to insult religion (Section 295 of the Indian Penal Code), punishable by up to two years in prison and/or a fine; and with maliciously insulting religion or religious beliefs (Section 295-A), punishable by up to three years of prison and/or a fine.
The first ten days
After various legal wranglings, the two Christians were taken into custody.
The first ten days in jail were the worst, Pastor Kumar said. 'Tensions in jail were heated during the first ten days as the inmates got to know we were charged with defiling worship places of Hindus,' he said. 'We suffered there, too. They tortured us. In the middle of the night at around 12 a.m., we woke up and prayed till 3:30 a.m., we meditated on the chapters in Revelation and Psalms. We devoted our time to prayer and worship.'
They did not try to convince anyone of their innocence.
'Amazingly, after ten days of observing us pray and meditate, they understood that we are framed in a false case,' he said. They read the parables of Jesus and Psalms with the inmates every day.
Power of prayer
'God moved their hearts – when we bowed down to pray, the inmates would break down wailing and crying,' Pastor Kumar said. 'They confessed they are sinners and came to Christ. God has done wonderful works inside the prison. We were 42 members in our ward, and over 30 of them came to Christ.'
Even in the case diary submitted to the court, police could not produce any evidence at all that supported the charges, Kameshwar Singh, an attorney representing the Christians reported.
'There are two options for them now,' Singh said. 'Since the charges are false, they can appear before the court for the next hearings, and ultimately they will be acquitted, or they can go to the High Court in Patna to submit a petition to quash the FIR [First Information Report].'
Scheduled next hearing
Pastor Kumar was able to celebrate Christmas with his wife, who is nine months pregnant, and family. His next hearing is scheduled for February.
Devesh Lal, coordinator of the Bihar Christian Leaders Fellowship, said that incidents of Hindu extremists attempting to entrap Christians in India are increasing at alarming rate. 'It has become a new trend of violence, where assailants approach the Christians unarmed but with a plan, frame them in false charges and put them behind the bars,' he said. 'The apprehension and fear of threats and communal disturbances is very much there in the church and Christians.'
Trying to create fear
Pastor Raj agreed that such attacks are increasing. 'They don't appear as one of great physical injury, and there is not vandalising or destruction of structures or material, and all the assailants are very young, aged below 25,' he said. 'In most of the cases, they are unarmed, and their main motive is to create that psychosis of fear in the hearts of Christians. If we quantify the loss these false charges have led to in terms of money, it can be put as a huge sum, but the mental agony an accused Christian goes through cannot be quantified.'