Wakefield sees progress
There is nothing quite like the baptism of recent converts for encouraging a church. That was the blessing enjoyed just two weeks before Christmas by Grace Church Wakefield, a church-planting venture from Dewsbury Evangelical Church.
Graham Heaps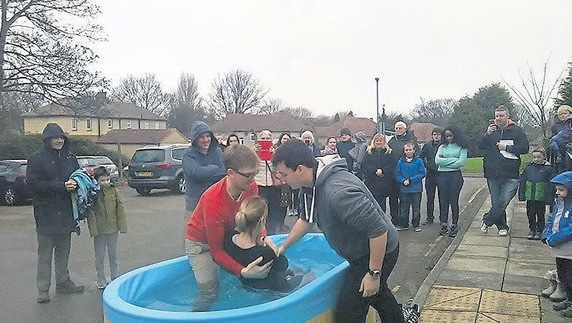 Richard and Hannah are a married couple in their mid-thirties with two young sons. Church going had formed part of both their lives at various points in the past, but in recent years no religion of any kind had significant influence in their lives.
Their first contact with the church came after Hannah started to reconsider her conviction that she didn't need God. While her life was busy and far from unhappy, she felt that there was 'something missing'. Gradually she began to wonder if the root of her problem was that she had no kind of relationship with Almighty God.
Internet search
That set her on the job of researching churches in the local area on the Internet, where she stumbled across Grace Church. In some almost indefinable way the church seemed different from others, and something about it – she wasn't sure exactly what – appealed to her. Intrigued to see that we were about to run a course called 'Christianity Explored', she decided to enrol.
One effect of the course was to increase her sense that she needed a relationship with God. Another was the conviction that she, her husband and the boys needed to 'try' Grace Church. Praise God, since starting to meet regularly with the church and hearing the Word of God preached, both she and Rich came to understand and believe the gospel. He said that since the day they arrived everything has begun to change in their lives, including their relationship with one another and their priorities as a family. The church has been delighted to see their clear faith and determination to walk in obedience to the Lord.
Baptism on a cold day
Since Grace Church meets in rented accommodation – the excellent Jubilee Hall on the Lupset estate – the actual baptism was undertaken outside in the car park in a portable baptistry. In the mercy of the Lord the six inches of snow promised by the weather man didn't materialise, though the air temperature was only about two degrees above freezing. Thankfully the water was warm and the rest of the well-attended service, including public testimonies by the baptismal candidates, was held indoors!