Myanmar: Christians are being forgotten
A leading Christian aid agency called in early September for greater attention to be given to Myanmar's persecuted Christian community who, like the Rohingya Muslims, have been targets of violence and intimidation by the military.
Barnabas Fund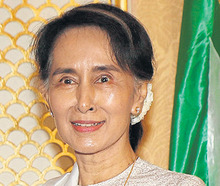 There is a new threat of jihadist violence which now faces the Christian community in nearby Chin state as a direct result of the Rohingya crisis. Muslim militants, who launched a series of attacks last October which led to this year's heavy-handed and repressive overreaction by the Myanmar military, could soon have their numbers reinforced by Islamist fighters from Al-Qaeda and Islamic State.
Call from Al-Qaeda
According to Barnabas Fund, Al Qaeda is urging jihadists to flock to the region to fight for the Rohingya Muslims. It is almost exactly what happened in the southern Philippines when IS-linked jihadists from across South-East Asia quietly infiltrated Marawi city and seized control of it, killing a number of Christians earlier in the year.
As Islamic State loses military control in Syria and Iraq, Al-Qaeda sees itself as having an opportunity to regain its claim to lead the global jihadist movement.
Christians are the forgotten victims of the violent and repressive tactics of Myanmar's military. They are already suffering appalling persecution and violence from the state. A recent report by the US Commission on International Religious Freedom recorded large-scale violence against Christians by the military. The acts of violence include desecration and damage to churches, and 'grave human rights violations' including 'sexual violence, … torture of pastors, church workers and ordinary civilians'. Around 120,000 Christians have fled the violence.