MOVING WITH GOOD NEWS
Doncaster is modernising.
Christ Church Fulwood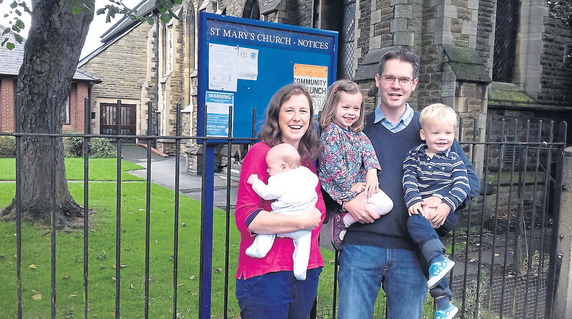 The new National College for High Speed Rail and the rail sector hub located in the South Yorkshire town are just two obvious examples of a conurbation that is, economically, moving in the right direction. Everywhere you look in Doncaster there are signs of life, from new builds, to new companies locating. It's a far cry from the depression of a town 'built on coal', which promptly collapsed when the black gold was no longer wanted.
Spiritual needs
But while things economically look bright, the situation in Doncaster spiritually is another kettle of fish.
That's not to say that there isn't any faithful witness in what is one of the largest towns (with non-city status) in the country. There are a few excellent, growing and thriving churches in the town, notably one solidly conservative evangelical church actively planting and witnessing. But, for a town with a population of over 100,000 people, it should have many more healthy churches. And that has been acknowledged by the Diocese of Sheffield – the episcopal area that Doncaster falls into.
'I was invited to be part of a group to consider how we might grow the diocese through planting churches' says Paul Williams, Vicar of Christ Church Fulwood. 'Leaders of the larger churches discussed with senior staff in the diocese current plans for growth and planting and everyone in the room became aware that the 'far east' of the diocese - Doncaster - was considerably under resourced compared to the rest of the area. And that was worrying because the rest of the diocese isn't exactly bulging with resources!' And so the current plan was born.
Williams explains: 'At the end of that meeting I stuck my neck out with a plan to plant a church from Christ Church Fulwood in Sheffield, into the centre of Doncaster. To their credit, the diocesan staff were terrific and grasped the vision immediately. More than that, they made this new initiative happen.'
Joining St Mary's
The new initiative that Williams refers to is the plan to graft people into St Mary's Wheatley – a church very near Doncaster town centre.
A new minister has been appointed to lead the church. Andy Thomas has just moved from St Matthew's in Cambridge, a church which itself experienced a graft from St Andrew the Great nine years ago. Andy, along with his wife Amy and their three children, are getting to know the St Mary's church family, while recruitment for the church graft is happening. 'The leaders at St Mary's have been great,' says Andy Thomas. 'They listened as the diocese made their pitch. They quickly saw how it would help them to keep making Jesus known in the town. They were excited by the plan, and they've embraced it enthusiastically.'
Two full-time posts
Recruitment for the graft includes a couple of members of staff. 'The diocese has not only found the money to employ me,' explains Andy Thomas, 'but additionally, from the church commissioners, they've been awarded funding for two other full-time posts. So I'm looking for a children's worker and another member of staff to look after the music and preach – a sort of assistant minister role. It feels like God's opening a wide door for the gospel in Doncaster. It'll be a joy to serve together with a gospel-hearted team. Amy and I are thrilled to be here.'
Fulwood's step of faith
Meanwhile, Paul Williams is recruiting from the Christ Church Fulwood family. Those interested are working out house moves, relocating family and applying for jobs in Doncaster. 'In God's kindness,' says Williams, 'Christ Church has been involved in planting churches in the past, but never this far from Fulwood. It's been a real encouragement to see love for the lost motivate people to want to be part of it.'
Other churches around the country are also involved. Paul Williams and Andy Thomas have been invited by a few churches to explain the Doncaster vision to their congregations. Churches with large student numbers have graciously given a platform for Paul and Andy to speak to students who'll be leaving university next year.
Paul Williams explains,: 'I'm reliably informed that there are lots of job opportunities in education and medicine in Doncaster. Not to mention other companies that are moving into the area looking for people to join them.' He adds: 'It's a terrific opportunity for gospel-minded, servant-hearted people to consider making the missionary journey north to be part of this new initiative. While church planting isn't easy, it's a very exciting opportunity.'
Plenty of prayer
Exciting indeed. Many are praying that God would be pleased to bless this new church initiative, so that this strategic town will be moving in the right direction spiritually as well as economically.
If you want to know more, email dedicatedtodoncaster@gmail.com Or visit the St Mary's church website stmaryswheatley.org.uk