Oldham: church for all
Tucked away in Glodwick, Oldham, is a church so small you don't even notice it.
Oldham Evening Chronicle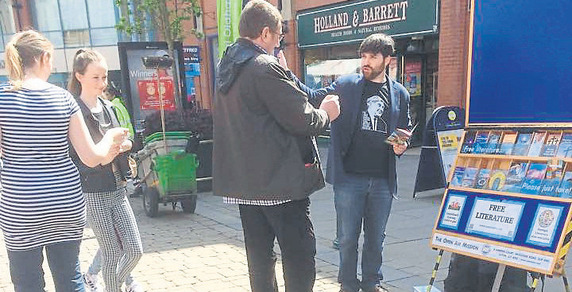 Bethel Church, a gospel-centred evangelical church in Waterloo Street, has all the usual activities one would expect in churches today: prayer meetings, Sunday services, after-school activities and so on. But what makes the place so intriguing is that it is home to a very diverse congregation, especially a growing Iranian Christian community fleeing from persecution.
There are about 20 Iranian and Afghan Christian asylum-seekers who attend the church on a regular basis. The majority of them live in Oldham, with some coming from neighbouring towns.
To cater for this diverse community, there are English classes at the church once a week, as well as Farsi (Persian) Bible study groups. Even the website has a Farsi section of Bible sermons.
'We have a real mix,' said minister Stephen Kneale. 'White Brits, Caribbeans, Africans, but predominantly Iranians and Afghans. We had people convert from Islam to Christianity who were local; they had to leave the area. This was before my time. They had issues and had to be moved. I've personally not encountered any issues. We've generally got pretty good relations with people in Glodwick.
'Once a month we meet with Muslims from the Khadijah Centre further up the road. We set that up, not to pretend we believe the same things or pretend we're the same, but to openly discuss differences. We normally have presentations from the Christian point of view and then the Muslim point of view.'
Second family
Despite the problems they have faced with their families, and the Iranian government, the group has found Oldham's Christians very welcoming, like a second family.
Tooraj Habibi (30), a sales worker, came to England from the Iranian capital of Tehran in 2011 and applied for political asylum. He got into trouble with the Iranian government, which made life difficult. He met his wife Shahin Toopchian through work. She had converted to Christianity and introduced him to the Waterloo Street church. He converted after a year and was baptised last year. 'My family was obviously not very happy because I had political issues in Iran,' Tooraj went on to say. 'This was an extra issue for them. My mum publishes books so she said don't come back here. Books have to be censored in Iran.'
Ameneh Samari (39), from Derker, is studying English at college. In Iran she studied political science. When Ameneh's mother was ill, her Christian friend came to pray for her. After she recovered Ameneh began to look into the Christian faith. She converted to Christianity and then left Iran in October 2015. Her husband Ali Reza (38) joined her a few months ago, but is not religious at all. They have a seven-year-old daughter Baran. She has family in Canada who have, by and large, accepted her conversion to Christianity.
Although she is happy with the Christian community at Bethel Church, a part of her is still sad about the situation in her home country. She said: 'We will never be able to go back to Iran. Nobody is happy to leave their motherland but you have to live with it. It's not easy for anybody. It's not the country but the government that is the problem. I don't want to go back at this moment of time.'
For Mehrdad Bahmanpour, it was more difficult. He came from a religious family where he was expected to pray and fast during the Muslim month of Ramadan. The 23-year-old studied chemistry in the city of Shiraz and converted to Christianity after meeting Christians in Iran and doing his own research on the faith. His family were not happy.
Ali did not want to give his full details as his family would be in danger in Afghanistan. He converted to Christianity in 2002 and moved to Iran before coming to the UK. He lived in Liverpool and attended a church there before moving to Oldham and joining Bethel Church last February.
'I didn't see anything good as a Muslim,' said Ali. 'Nothing was good about Islam. Everyone was dying in Afghanistan because of this religion. I'm very happy I have changed my religion. Before, when I was a Muslim, I wasn't happy. Now I am happy.'
More peaceful
Sam, who is in his 40s, did not want to give his full name as he got into trouble with the Iranian government and does not want his family to suffer. He came to the UK from Tehran in December 2011. He had published a banned book, so he had to leave. 'I found a lot of problems in Islam and problems between men and women,' Sam explained. 'When I was 20 I used to pray and fast. After that I didn't believe in anything or any religion – just God. In Iran you don't have any freedom under that government.'
'I found Christianity a more peaceful religion. It is totally different from Islam. Jesus didn't fight for power or government. He didn't want anything for himself. Jesus gave me peace.'