Becoming a secret pastor
Hameedullah* works as a church leader in a country known for intense persecution of Christians.
World Watch Monitor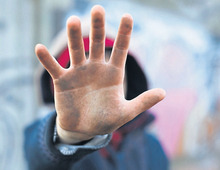 When he was young, he lived illegally as a refugee in a Muslim country that didn't want him or his religion. He even faced scrutiny from members of his own family, some of whom were recruited into terrorist networks.
His parents converted to Christianity through meeting a Christian midwife. She showed them compassion and sensitivity, dealing with their physical and emotional needs as they settled into a new and hostile culture.
'We were in a foreign land that would never really be home,' Hameedullah says. 'We were thankful their government opened their borders to us, but people spat at us and cursed us for living off the "blessings of their land".'
Baba Jani* – Hameedullah's father – was given a copy of the Bible by the midwife. He didn't know how to read, so the midwife sent him to literacy classes. 'He was taught by Christians and noticed how they treated each other and worked together. He liked it and felt that's how life should be. He and my mother were baptised. Naturally, I became a believer in Christianity too,' said Hameedullah.
Life was a constant struggle, keeping his faith hidden among radicalised people in the camp. He refused to marry more than one wife, refrained from readily-available drugs, and did not steal or engage in fraud.
'I was born a refugee, so was often in turmoil about my identity,' he said. 'But I did not want to break the law. I believed that the Jesus of the Bible stories we heard wanted us to act differently from the depravity and confusion that was normal and acceptable around us.'
Hameedullah met Qareem*, a missionary. Qareem's life made Hameedullah think about telling others about his faith too, though he felt afraid about what might happen to him.
Kidnap leads to boldness
Ten years later Qareem was kidnapped and is still missing. Hameedullah believes he was killed for evangelising in a place where people kill those who convert from Islam to Christianity. 'When brother Qareem disappeared, the fellowship group of secret believers was at severe risk and so we dispersed,' said Hameedullah.
He mourned the loss of his friend, but longed to help other secret believers. 'They were languishing in isolation and spiritual hunger. I joined an underground Christian organisation, helping it distribute Christian literature and translating their work. Often, I went into the mountains of my homeland and explained Christianity to others who had converted too.
'Qareem's death changed my life. I became an evangelist, just as he wanted me to be,' Hameedullah said. As a pastor working in secret he helps thousands of Christians in a country that refuses to believe that Christians even exist. He trains other Christians to evangelise and care for new believers.
*All names are changed for security reasons.