Crieff: aware of God's love
The January gathering of the Crieff Fellowship saw almost 200 members bene-fiting from the ministry of Alistair Begg and Sinclair Ferguson.
Jeremy Middleton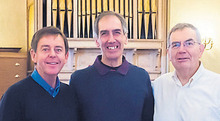 No stranger to these gatherings, Alistair Begg brought his customary clarity of exposition and incisiveness of pastoral application to four thrilling sessions on Ephesians 3, while his after-dinner address on the first night helpfully highlighted distinctive features of Spurgeon's John-the-Baptist-like ministry. That his own ministry reflected precisely the qualities to which he alluded – authority, coupled with a deep humility; integrity; and boldness of application – is perhaps the best measure of the quality of pastoral ministry by which those present were richly nourished.