Vital necessity of the Spirit
The Reformation and Revival Conference in Derbyshire, 14–16 November, was one of close fellowship, times of prayer together and good expositional preaching, the hallmarks of this annual conference.
Roger Hitchings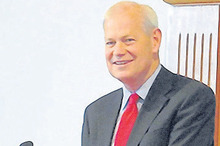 Simon Clarke from Shepshed opened the conference with an encouraging and challenging message from Luke 11.13. His theme was the vital necessity and glorious promise of the giving of the Holy Spirit by our heavenly father to those who ask. The word was refreshing and motivating as we face the days in which we are living. How we need to be asking for the Spirit.