Clearly good news
Are you hoping to have non-Christian folk visit your church over Christmas to hear the gospel?
JEB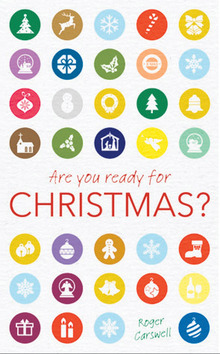 ARE YOU READY FOR CHRISTMAS?
By Roger Carswell
10 Publishing. 49 pages. £2.99
ISBN 978 1 910 587 829
Yes? Then probably you will want to be able to send them home with a gift of a Christian book which simply explains the gospel which is at the heart of Christmas. This little book by cheery evangelist Roger Carswell does a great job for doing just that.
All bases covered
All the bases of the Christmas message are covered, from sin through to salvation. What Roger has always been particularly good at is illustrating the truth of Christ and the cross with stories and quips. With both humour and seriousness he unfolds the grandeur of God and the wonder of grace in a way that is accessible and readable.
Here's a small snapshot from the angels' message about peace on earth: 'The mistake millions of people, often deeply religious individuals too, make is trying to achieve peace with God by their own efforts. Yet the way to enjoy this has already been achieved by God. The thing which keeps us from peace is sin. God says that there is no peace for the wicked... But peace with God can be found through faith in Jesus Christ and his death on our behalf... '
Whatever means we use, may we all take the opportunity to get the gospel out this Christmas.