Leaders who last
Vaughan Roberts's talk from the Lausanne Younger Leaders Gathering in Indonesia over the Summer
Vaughan Roberts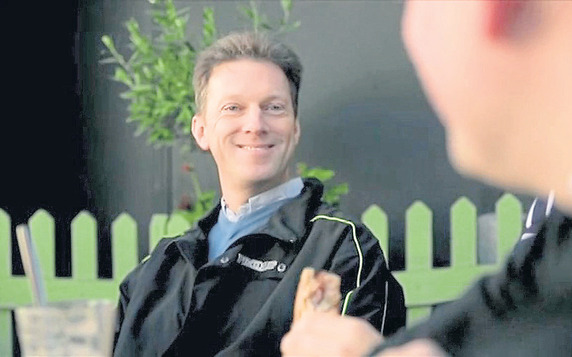 I had two surprises when I started out as a pastor 25 years ago.
The first was that it was even better than I had imagined. I was actually being paid to do what I longed to do above anything else: tell people about Jesus and teach the Bible! But the second surprise was that it was much harder than I'd anticipated. The sense of the privilege and importance of my work was exhilarating, but it was also exhausting.
After four years the pressure had built to such an extent that my health broke down, so I nearly had to pull out of ministry altogether. I had an extended break and was able to continue, but my pattern of life and ministry was still not healthy. A few years later, after a fruitful period of ministry, I took a 3 month sabbatical, which gave me an opportunity to review my life and reflect on the future. I realised that I was vulnerable physically, spiritually, morally and emotionally and that things needed to change.
I am so grateful for the lessons the Lord taught me then, which I have being trying, often feebly, to apply ever since. I now pass them on to you in the hope that they will prevent you from joining the sobering statistic of those who have had to withdraw prematurely from positions of Christian leadership. If you take them to heart, they will help you, not just survive as a leader, but flourish.
1. Remember you are dust
Christopher Ash twice came close to having to pull out of ministry through emotional and physical breakdown. Reflecting on that experience in his book Zeal Without Burnout, he summarises the lessons he learnt and wants to pass onto others in five words: 'You and I are dust'. He writes: 'We need to know that and never forget it. You and I are embodied creatures: we are dust. God made us out of dust (Genesis 2.7) and one day he will turn us back into dust (Psalm 90.3)'[1]
My health collapsed in the early days of my ministry because I forgot that basic truth. I was young, I'd always been fit and well, and took it for granted that I would stay that way. As a result I pushed myself far harder than my mind and body could cope with, leaving me with chronic fatigue, headaches and anxiety.
The road to recovery began as I slowly worked out my limitations and tried to live within them. I got better at trying to find a sustainable rhythm of life and ensuring I had sufficient time for relaxation, sleep and a regular day off. I discovered what re-energised and de-energised me and tried to ensure a balance between the two. But the most important lessons I learned went far deeper than that.
The teacher of wisdom in the book of Proverbs appeals to the younger generation: 'Above all else, guard your heart, for everything you do flows from it' (Proverbs 4.13). Yes, we must look after our bodies, but nothing is more important than the heart. In the Bible the heart stands for the control centre of our lives; it determines the convictions and desires that drive us. It was only when I recognised that behind my physical health breakdown was a spiritual heart problem that I really began to get better.
I did have a genuine longing to serve Christ wholeheartedly in those early years of ministry but, often without me realising it, those godly
passions in my heart were mixed with other misguided or sinful desires. It slowly dawned on me that I was driven as much by a concern to be thought well of and be successful as by zeal for the Lord. Perhaps there was something of a messiah complex as well - as if spiritual fruit depended on me, rather than Christ.
Looking back now, I am so grateful for the humbling I experienced in those days. At times I felt so weak that I didn't know how I would find the energy to get into the pulpit to preach. By being brought low in that way I was reminded that I can't do anything without Christ, but he can do anything without me. I am dust: God alone is God and he alone can do every spiritual work. And, wonderfully, he did work through me. I began to learn then that, far from disqualifying us in his service, our weaknesses are often the context in and through which he delights to work. As Christ said to Paul: 'My grace is sufficient for you for my power is made perfect in weakness' (2 Corinthians 12.9).
2. Keep Jesus central
An elderly friend, now with the Lord, rang me one morning and began by saying, 'I just wanted to talk to someone about Jesus. Do you love Jesus?' 'Yes I do,' I replied, 'but not as much as I should.' 'I love Jesus,' she said, with great emphasis. She meant it. Despite a very difficult life, her face always radiated love for him. Her example is both an inspiration and a challenge to me.
In our busyness we leaders can easily become activists, rushing from task to task, and meeting to meeting, but forgetting why we're doing it all or, rather, who we're doing it for. So it's vital we take steps to ensure, the Lord Jesus remains at the centre of our thoughts and devotion.
John Newton, the converted slave trader who wrote 'Amazing Grace', choose as his personal motto: 'None but Jesus'. He longed that 'Christ may be all in all to me, that my whole dependence, love, and aim, may centre in him alone',[2] but he recognised that wouldn't happen without determined effort. He wrote: 'I find that to keep my eyes simply upon Christ as my peace, and my life, is by far the hardest part of my calling… hungering and thirsting for Christ is the central daily discipline'.[3]
I can certainly echo those words. I know that my life and ministry become dry if they aren't sustained by the living water of conscious communion with Christ. And yet, perversely, I find it hard to keep coming to him to drink. The battle continues, but over the years I have built patterns and practices into my life which have helped.
Nothing is more important to me than ensuring I stick to a daily time of Bible reading and prayer. I try to keep that fresh through frequent changes: switching from longer passages to shorter ones, even just a verse or two sometimes; reading with study notes or a commentary and then without them; basing my prayers on the Lord's prayer, or another of the Bible's prayers for a while, and then writing my own, especially on significant days such as New Years Day or my birthday. I have been weak at taking a day or days for a longer time away with the Lord, but have always been richly blessed when I've done so. And I try to remind myself to come to Christian meetings, not just as a leader, but as a disciple, so that I am feeding spiritually with others, rather than just serving up the food.
We're all different, so we'll need to work out what helps us most to feed on Christ in those focused times with him. That will then help us walk in love and obedience to him through all of life and to keep trusting him, our sovereign Lord, whatever happens.
3. Be ruthless with sin
Earl Wilson was a respected pastor, but by his late forties he was living a double life and had fallen into a pattern of sexual sin. After facing up to it, seeking help and repenting, he wrote a book called Steering Clear: Avoiding the slippery slope to moral failure. Almost all who have gone down that slope find it hard to understand how they could have ended up doing such things. Wilson comments, 'The answer is usually found in the description of the process by which one mistake leads to another, with a disastrous cumulative effect'[4].
We need to learn to fight sin, whether sexual or other, when it's an acorn, or else it will become an oak and be very hard to shift. That might begin by identifying our achilles heels, the points of greatest vulnerability. Ask the question, "If I was the devil, where would I direct my attack against me?" We usually know where the battle of temptation rages most fiercely when we are tired, lonely, or stressed. If we're wise, we'll make sure we give ourselves special protection in those areas. We'll need to take ourselves in hand and determine there are certain places we won't go, people we'll avoid and lines of thought we'll shut down immediately because of where they might lead.
Resolutions of that kind certainly help, but I've found that on their own they will only deliver superficial change. It was a breakthrough for me when I realised that, although discipline is important, desire is fundamental. I sin because at that moment I want to. Some idol such as pleasure or popularity, has captured my heart and convinced me that chasing it, rather than obeying Christ, will give me the happiness and fulfilment I crave. But that's a lie. I know from experience that sin never delivers what it promises; in the end I always regret it. Striving for holiness in 'the new way of the Spirit' (Romans 7.6) involves asking him to expose the lies of Satan and to replace them with a deep love for Christ as well as a conviction that his ways are always best, so that I hate sin and long to walk in his ways. We're back to where we were in the last point: keeping Christ central is indispensable in fighting against sin.
I've seen some progress over the years but I still fail again and again. It's so important at those times that I don't allow shame to keep me distant from Christ, which makes it much more likely that I'll repeat the sin. I'm slowly learning not to wallow in guilt, but to pick myself up, look to Christ and once more delight in the forgiveness I've already been given through him.
4. Maintain close relationships
A group of us were discussing what had gone wrong after a pastor fell into sin and had to leave his ministry. "Who were his friends?" asked someone. The silence that followed was telling.
Leaders easily become isolated. Our position sets us apart from others, so that they're more inclined to look up to us, rather than get alongside us. Some treat us as if we are on a higher spiritual plane than other Christians. One church member even said to me, 'Of course, you don't face temptations like the rest of us'. And busyness doesn't help. In the midst of all the pressures we face, it's hard to find time for family, let alone friends. But it's vital that we do. We're not meant to live the Christian life alone and, if we try to, we'll be much more vulnerable to the attacks of the evil one.
For those who are married, your spouse and your children must know that they come first under Christ. You'll need to protect your time and energy, so they get the best of you, not the dregs that are left when you've poured yourself out for others. That will mean saying no to exciting ministry opportunities and not helping as many people as deeply as you would like. But, far from undermining your Christian service, as you'll be tempted to believe, such sacrificial love of your family is fundamental to it. It will model godliness to others and will also keep you grounded. When you're tempted to believe you do belong on the pedestal others put you onto, the rough and tumble of normal family life will soon bring you down to earth. That may be humbling, but it's also healthy. True intimacy is only possible when people know us as we really are, and not just our public face.
It was sobering for me in my late thirties to ask myself the question, "How many people really know me?" I realised I needed to make a deliberate effort to make sure that some relationships went deeper, so there were a few that were especially close. That took time and vulnerability, but it was one of the best decisions I ever made.
I'd assumed that friendship was particularly important to me as a single man, but I soon learned that my married friends, especially those in leadership, felt isolated too. We all need those we can relax with, with whom we can share burdens, and who know both the best and the worst about us. It's been a great help to me to be part of an accountability group, in which we know the questions to ask of one another. That's uncomfortable, but it really helps me to fight temptation. And when I've confessed sin, they've been brilliant at pointing me again to Christ, who is the greatest friend of all.
Boiling it down
You may have noticed that all four of my points essentially boil down to one: Keep looking to Christ! In ourselves we can't keep going in Christian leadership, or even in the Christian life for a day, let alone a decade. We are very weak, but Christ is faithful and strong. With that great truth in mind, I look forward to the next 25 years if the Lord spare me, with more realism than when I began, but also with real excitement and hope.
Vaughan began working in ministry at St Ebbe's, Oxford in September 1991.
Zeal Without Burnout,

(

G

ood

B

o

ok

Co

m

p

a

n

y

2016)

pp

.3

5-36

Newton: On the Christian Life,

To

n

y

Rei

n

ke

p

.

65

Newton: On the Christian Life,

To

n

y

Rei

n

ke

p

.

17
Steering Clear,

E

.D.

Wil

s

on

(Leic

e

s

ter

U

K

2

0

02)

p

.

22