S.E.Asia: Islamic tussle over Shari'a law
The Muslim communities of Southeast Asia have long been regarded as among the more moderate of the Islamic world.
Dr Peter Riddell,

Vice Principal of the Melbourne School of Theology and Senior Fellow of Kairos Journal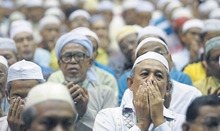 The world's largest Muslim nation, Indonesia, sits alongside the smaller but dynamic Muslim communities of Malaysia and Brunei, as well as the sizeable Muslim minorities in Singapore, Thailand and the Philippines. Together these nations are home to around 250 million Muslims.