Dr Enid Parker
1920 – 2016
On 8 April 2016, Dr Enid Parker, known as 'Asamolta' or the 'Red Lioness' to the Afar people of East Africa, went to be with the Lord she served for so long.
Paul Yeulett,

pastor, Grove Chapel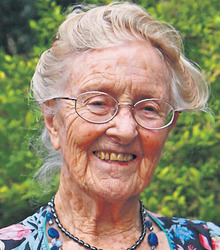 By the time she was born in Edenfield in Lancashire in 1920, her father's health had been ruined by the Great War; he died when Enid was only seven. Her mother was unable to care for Enid and her two brothers, who were all cared for by relatives.