US: Together for the Gospel
Imagine standing in the middle of a vast arena, surrounded by 9,000 people, each singing 'In Christ Alone' at the top of their voice. Add in ten hour long sermons (not consecutively!), five panel discussions, 19 breakout sessions, two pre-conferences and the largest bookshop many of us have ever seen and you get some idea of the 'Together for the Gospel' conference.
Jamie Southcombe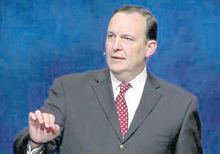 This year's was the sixth conference, held biennially in the Yum! Centre, Louisville, Kentucky. The theme was 'We are Protestant', celebrating the 500th year of the start of the Reformation when Luther nailed his 95 theses to the Wittenberg door.
In his opening address Dr Ligon Duncan asked the question, 'is the reformation over?' The answer given was a resounding, 'no!' Duncan noted that there is a continual need for reformation according to the Word of God. The doctrines rediscovered by the reformers are thoroughly biblical and they therefore need to be taught in our churches today.
Many of the talks throughout the three-day conference focussed on the great reformation doctrines of grace; other talks addressed contemporary issues. In his plenary session Dr Mark Dever encouraged pastors to endure in situations where there appears to be little immediate fruit. He reminded us that though pastoring is urgent work, it is not quick work.
The view from Farnham
One of the attendees was Phil Sweeting, a pastor from Farnham, who shares some impressions of the conference below.
As a first time visitor to Together for the Gospel, there were many things that stood out. Mainly it was the size. As one of the speakers, David Platt, highlighted soberly, there were twice as many Christians in the room as there are in the whole nation of Turkey (population 80 million).
There were many excellent talks, though perhaps the outstanding one from my perspective was John Piper on the bondage of the will. He demonstrated from the Bible five ways in which the natural man is held captive in sin, and how only the glorious gospel of grace answers and effectively deals with all of these. He also showed us how important it is pastorally to teach these truths so that our congregations might appreciate the gospel more fully.
Another highlight was an interview with Philip Jensen, who remains as sharp and plain-speaking as ever with a passion for the gospel to be proclaimed. Kevin DeYoung's carefully nuanced call to pursue holiness was also helpful as was Matt Chandler's exhortation to find gospel courage by meditating and preaching on the glorious depths of the power and character of God.
The whole conference was a good reminder of the need to pay careful attention to our doctrine and to be precise in the way we express it. It has reminded me of the importance of 'feeding the sheep' with the great foundational truths of the gospel.