US: Together for the Gospel
Imagine standing in the middle of a vast arena, surrounded by 9,000 people, each singing 'In Christ Alone' at the top of their voice. Add in ten hour long sermons (not consecutively!), five panel discussions, 19 breakout sessions, two pre-conferences and the largest bookshop many of us have ever seen and you get some idea of the 'Together for the Gospel' conference.
Jamie Southcombe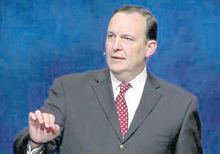 This year's was the sixth conference, held biennially in the Yum! Centre, Louisville, Kentucky. The theme was 'We are Protestant', celebrating the 500th year of the start of the Reformation when Luther nailed his 95 theses to the Wittenberg door.